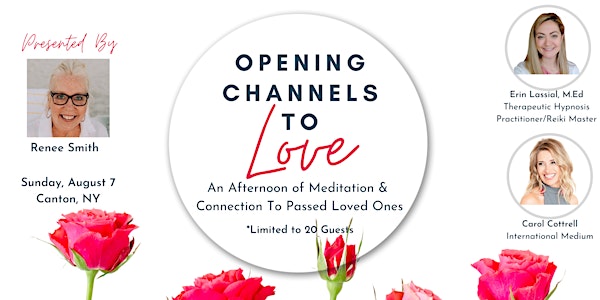 Opening Channels To Love
Extraordinary healing happens when we open ourselves to channels of love; the love of our own soul + love from family+ friends in spirit.
When and where
Location
116 Rice Rd 116 Rice Road De Kalb Junction, NY 13630
Refund Policy
Contact the organizer to request a refund.
About this event
Join Renee, Erin & Carol for an afternoon like no other. We'll bring together multiple amazing healing modalities to offer one incredible experience. Therapeutic Hypnosis Practitioner and Reiki Master / Practitioner Erin Lassial of Grasse River Wellness will begin the afternoon with a guided meditation , followed by connections and messages from loved ones in spirit, offered by Intuitive Medium Carol Cottrell . Together, in the serene space created by Renee Smith of Sugar Hill Farm, we'll open doors for extraordinary healing and creation.
This event will be limited to 20 guests to offer a more intimate experience.
*Light refreshments will be served.
About The Guided Meditation: Through a multi-layered approach of guided meditation, sound healing and energy work, this experience will inspire profound physical, mental and spiritual alignment. The guided meditation uses hypnotic techniques to open the channels of love and healing at its deepest levels, as it accesses the intelligent source within each of us. The energy work will recognize individual intentions as it infuses universal life force energy with one's own natural healing abilities. Ancient sacred sound instruments will be used throughout the experience to cleanse the energy field and enhance the alignment of the physical, mental and spiritual bodies.
About Mediumship: The chance to connect and communicate with a passed loved one through a medium can be incredibly helpful in our healing process. It provides a better understanding of our loved ones' continued presence in our lives and offers our family, friends and even our pets in spirit the opportunity to share evidence and messages, reminding us their love never dies.
Carol will provide as many connections and messages as time and energy permit, and while not all attendees are guaranteed a personal reading during this event, the intention is all will leave with the understanding and comfort of knowing their loved ones are always present.
About The Event Space: In the late winter of 2001, Roy and Renee Smith made a life-changing decision to bring their small family back to The North Country. They were committed to raising their children with an admiration for nature, an understanding of sustainable farming and a pure love for family and friends, so they followed their hearts. Intuition guided them to a small farm, built in 1894, now known as Sugar Hill Farm.
Nineteen years later, Renee was diagnosed with Stage 4B Lung Cancer. Family, friends, and even complete strangers, rallied to offer strength and support, providing the means to seek medical care at the renown Mayo Clinic in Rochester, Minnesota. With the love of so many people, and the amazing energy of the farm land The Smiths had grown to cherish, Renee realized the power of gratitude and a positive, healing mindset.
Spirited by the blessings of Sugar Hill Farm : the natural world it offered to raise their three children, the animals that have grazed the fields and the abundance of healthy food they have grown, Renee and Roy found the strength to be lifted by all the opportunities the cancer brought them. Opportunities to live their best life, and to share their healing with others. This magic of Sugar Hill Farm has graced Renee and her family with a soul connection to the pure intention of helping others heal through love, mindset, gratitude, energy and intuition.
Sugar Hill Farm is a place of healing, allowing its visitors to breathe in all the magic that is life.
ABOUT THE EVENT HOSTS:
Erin Lassial: Owner, Grasse River Wellness, is a Certified Therapeutic Hypnosis Practitioner and Reiki Master. In addition to facilitating individual and group sessions in holistic wellness, Erin is a Teaching Assistant for clinical and spiritual hypnotherapy courses with Bryn Blankinship, author of Limitless Soul.  Erin was inspired to learn more about the ways in which sound vibration influences the human energy field after witnessing significant enhancements to her energy work when using tuning forks. Recently, Erin has completed a training and mentorship focused on sacred sound instruments and singing bowls with author, Diane Mandle, Ancient Sounds for a New Age. Her training focused on the use of sound as an independent healing practice, as well as a complementary method in energy work and meditation. Erin is passionate about quality education in holistic practices that address the connection between mental, physical and emotional health and wellbeing.
Carol Cottrell: A native of Potsdam, NY and now based in Charleston, SC, Carol is an internationally recognized intuitive (psychic) medium who communicates with spirits to bring healing, love and guidance from those who have passed on. Carol has learned from some of the world's most respected mediums / teachers including Tony Stockwell, Lisa Williams and Mavis Patilla. Carol demonstrates mediumship for audiences throughout the world and offers group and one-on-one readings. She also teaches intuition and mediumship workshops & classes and offers one-on-one mentorships to help others develop their own intuitive, psychic and mediumistic abilities.
Renee Smith: Passionate about the power of gratitude and mindset, Renee Smith, a warrior of Stage 4 Lung Cancer, has been navigating her healing journey since diagnosis in September of 2020. Renee has grown to recognize the power of intuition and energy healing, along with western medicine, as her trusted allies. She's been guided through her journey of healing with mechanisms that have provided her the ability to connect with and trust her higher self and the path she now follows.
In early childhood, Renee's maternal grandmother introduced her to a lifelong belief in Spirituality, and that belief continues to develop day-by-day, as she explores and mentors with healers around the country, including Erin Lassial and Carol Cottrell. Through her development, Renee has come to feel and trust the power within and has made it her mission to share that understanding, healing and comfort with others.
COVID Disclaimer: By clicking register, you are acknowledging that an inherent risk of exposure to COVID-19 exists in any public place where people are present. By attending Opening Channels to Love, you and any guests voluntarily assume all risks related to exposure to COVID-19 and agree not to hold Renee Smith, Sugar Hill Farm, Carol Cottrell, Carol Cottrell, LLC, Erin Lassial or any of their affiliates, directors, officers, employees, agents, contractors, or volunteers liable for any illness or injury.
*Event Disclaimer: Tickets for this event are non-refundable and can not be transferred to other events or services for any host. NOTE: Because this is an in-person event, exceptions will be made for ticket holders recently exposed to or showing symptoms of COVID. Please contact the event host to discuss options. Please do not attend the event if any COVID symptoms are present. Payment in-full is required at time of registration. Gift certificates for either Carol Cottrell, LLC or Erin Lassial or Grasse River Wellness are not redeemable for this event. Readings, teachings and other services provided are for guidance only. What any client or class participant decides to do with the information provided, including any actions taken, is the personal responsibility and choice of the client / class participant. All readings, teachings and information provided should at no time be regarded as legal, medical, financial, emotional, psychological or business fact and are subject to your own interpretation and judgement. The services of Carol Cottrell, LLC or Erin Lassial are not a substitute for professional services; it is advised you seek advice from the relevant qualified expert. We reserve the right to refuse service to anyone at any time. This event is for participants 18 years or older.