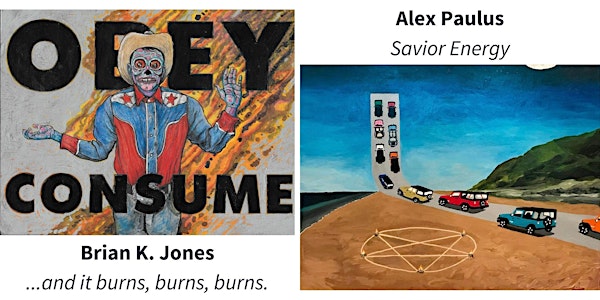 Opening: Brian K. Jones and Alex Paulus - Solo Exhibitions
Brian K. Jones continues his progression on burning Big Tex, and Alex Paulus presents a new series of irreverent paintings.
When and where
Location
Ro2 Art in the Cedars 1501 S Ervay Dallas, TX 75215
About this event
Where: Ro2 Art | The Cedars
1501 S Ervay St. Dallas, TX 75215
When: September 19 - October 17, 2020
Opening Reception: Saturday September 19, 12-5 PM
Ro2 Art is proud to present '...and it burns, burns, burns.' by Brian K. Jones, and 'Savior Energy' by Alex Paulus. These solo shows will run from September 19 through October 17, 2020. The exhibitions will open with an artist reception at Ro2 Art in The Cedars located at 1501 S Ervay St. Dallas, TX 75215 and will take place from 12-5 PM. Attendance to the reception will be limited to groups no larger than ten over 20 minute intervals - Reservations available via EventBrite.
Continuing his series on the legendary Texas Fair icon, Big Tex, Dallas based artist Brian K. Jones offers a new take on the towering cowboy. The burning monument in the likeness of the artist himself holds a mirror to current events as inequality, corruption and greed leave the world burning, taking Big Tex down with it. With the Texas State Fair currently halted and it's magical distractions locked away, our eyes are opened to what the world has become!
Alexander Paulus's new body of work boasts a dazzling color palette depicting the bizarre predicaments the artist has become recognized and beloved for. Savior Energy's comical chaos provides a small break from reality, while giving the viewer space to reflect on these current confusing times. Topsy turvy perspectives and outrageous scenarios unravel with highways to nowhere, dreamlike landscapes, and inane pop culture references. Paulus's work has a unique influence on the psyche evoking a simultaneously lighthearted and unnerving edge. When we're uncertain what to believe, the artist implores us to look within ourselves for the answers.
Brian K. Jones Artist Statement
The 2020 Texas State Fair has been shut down and Big Brother Tex cannot lull us into complacency with his long lines and magic corny dogs.
Our eyes are open. We see the rampant corruption, racism, inequality and greed that has the world burning. The worst global plague in history has us hopelessly barricaded in our homes where the orange man on the TV tells us to drink bleach. Creativity is the fulcrum to hope and it's also a fabulous distraction.
"I have come to chew bubblegum and kick ass" ….and I'm all out of ass.
Alex Paulus Artist Statement
Knowing what to do with yourself during these chaotic times can be really difficult and confusing. Some of us want to look to our leaders, either political or religious, for answers. It can be hard to decide whether to look for a savior, or to just save your energy. It seems like no one knows what to do or who to believe. But I think we can look within ourselves to find answers.
This collection of paintings offers a glimpse into my mind on subjects such as cruise ships, beach trips, and living, laughing, and loving. I've spent the last few months consuming the news, and it has inadvertently translated into my studio practice. I'm trying to stay positive and have hope that those in charge will do the right thing and protect us all, but it really seems like it's going to be up to the individual to make the right choices if we all want to get out of this mess.
So please enjoy looking and laughing at my paintings. Hopefully it will take your mind off of reality for a while, and possibly inspire you to save all of humanity.