Description

Spring Fling 2018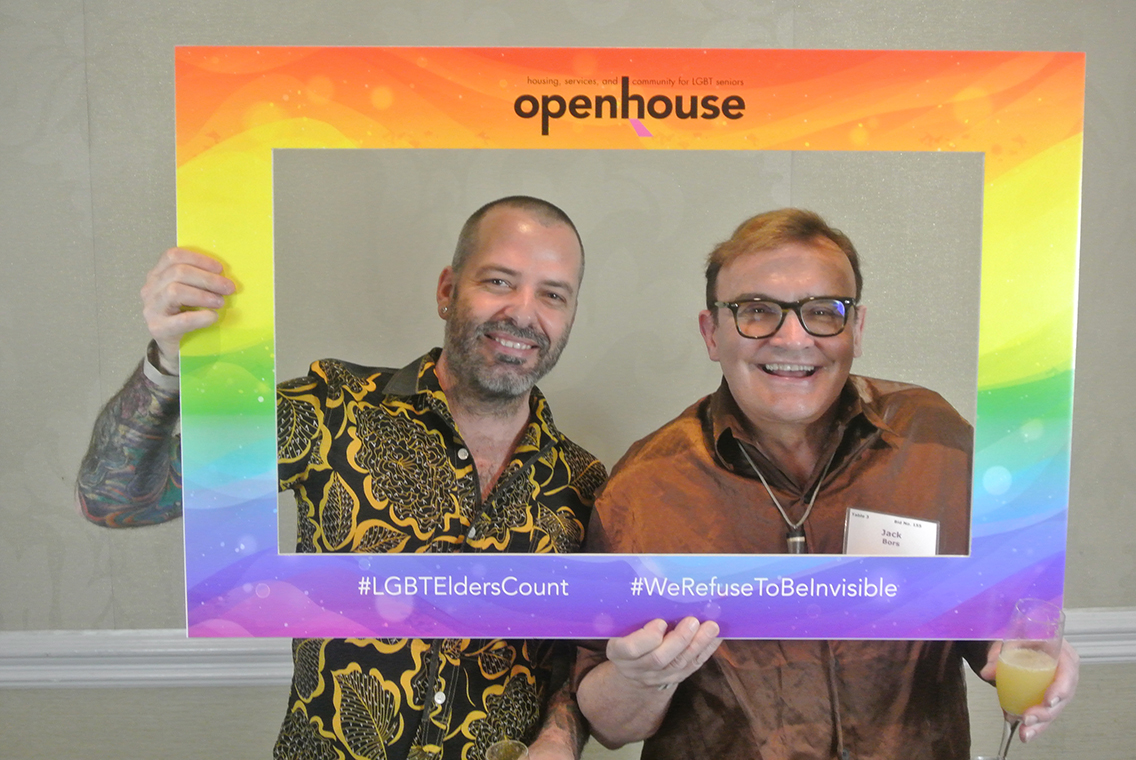 THANK YOU FOR YOUR INTEREST IN OPENHOUSE. TEA DANCE TICKETS ARE STILL AVAILABLE ONSITE BUT OUR ONLINE TICKETING IS CLOSED. PLEASE COME TO THE TERRACE AT THE RITZ CARLTON AT 2:00 AND YOU CAN PURCHASE A TICKET AT THE DOOR. THANK YOU!
*****
Openhouse is excited to invite you to our annual Spring Fling celebration!
Come out for a fabulous brunch and program honoring LGBTQ older people and those fighting to keep them central in our lives and our community. Stay out to enjoy our Tea Dance out on the gorgeous Ritz Terrace Courtyard.
As Openhouse's biggest fundraising event of the year, monies raised through Spring Fling are critical to providing and expanding quality programs and services for LGBTQ seniors. We thank you for all of your support!
Adelman/Gurevitch Founders Award 2018
The Founders Award is presented each year to a person who has significantly impacted or influenced Openhouse.
Join us in honoring Kate Kendell as this year's Founders Award recipient! Kate Kendell leads the National Center for Lesbian Rights, a national legal organization committed to advancing the civil and human rights of lesbian, gay, bisexual, and transgender people and their families through litigation, public policy advocacy, and public education. NCLR's legal, policy, and legislative victories set important precedents that improve the lives of all LGBTQ people and their families across the country.
Trailblazer Award 2018
The Trailblazer Award recognizes visionary pathfinders who are commited to empowering the LGBTQ community.
We are excited to announce Cecilia Chung as this year's Trailblazer Award recipient! Cecilia is the Senior Director of Strategic Projects for the Transgender Law Center and is a nationally recognized advocate for human rights, social justice, health equity, and LGBTQ equality. She was the former Chair of the San Francisco Human Rights Commission and currently serves on the Health Commission.
GenOUT Tea Dance 2-5PM
We are bringing back the Tea Dance!!! Join us as we celebrate and raise funds for San Francisco LGBT seniors- the first out and proud generation who led the way in fighting for the rights we enjoy today.
DJ'd by longtime San Francisco dance/disco legend Sergio Fedasz, with awards presented to Donna Personna and Collette LeGrande, this is a day party NOT TO BE MISSED! Ticket price includes wine, champagne and some lovely hors d'oeuvres!