Location
Venture Hive
1010 N.E. 2nd Avenue
Miami, FL 33132
Description
Stop conducting your business on software built in the 80's. Be ready to grasp the latest from experts and learn from the interesting business apps built in OpenERP.

OpenERP is hosting a learning event at the startup incubator Venture Hive in downtown Miami. See how you can replace your myriad of spreadsheets, customer data, accounting, payroll, website, and/or warehouse all with one powerful platform designed for the new hyper-connected world of customers.
Bonus: OpenERP presents its new Website builder & eCommerce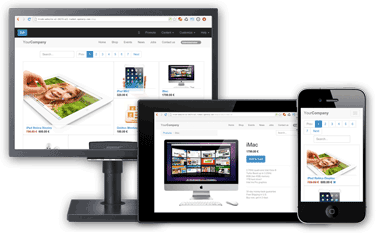 Discover the next
generation Website builder & eCommerce
OpenERP just launched the website frontend to all its professional business applications.
The next generation Website builder & eCommerce enables anyone with no technical skills to build a professional-grade Website & eCommerce in hours, not weeks.
Date: April 17th, 2014 at 5 p.m.
Location: Venture Hive
1010 N.E. 2nd Avenue
Miami, FL 33132
Agenda:
5:00PM : Welcome
5:15PM : OpenERP demo with CMS & e-Commerce
6:40PM : Case Study by Partner
7:00PM : Meet & greet with OpenERP. Contact us to meet one of our consultants!
Meet & Greet:
You wish to meet and talk about your business needs? Interested in OpenERP? We are happy to meet you right after the presentation!
If you wish to make an appointment with OpenERP, please contact us by following the links here below:
Out of the box website builder
A digital revolution within everyone's reach, that's the challenge presented by OpenERP to all professionals. OpenERP developed a new way to build professional websites easily. With this new app you can edit everything in line and publish right away. OpenERP is driven by a real willingness to give a qualitive user experience!
eCommerce at your finger tips
You can build a complete and secure online shop in just a few clicks. Create beautiful and sleek product pages, develop up-sell and cross-sell strategies, promote best products efficiently, ...
Become the market leader
Finally, the website builder includes a strong SEO tool and keywords editor. The website pages are tailored to be on top of the search engines result pages.
"Never ever before did an enterprise software succeed to integrate the website with the backend so elegantly. The usability of OpenERP CMS/eCommerce leaves all other solutions behind. And it was just a 5 months with 4 developers effort (35x less lines of code than Magento and Drupal). I can't wait to see the evolution of the product in the coming months with hundreds of developers."
-- Fabien Pinckaers, OpenERP Founder

This is a live event. You need to attend in person!
Looking forward to meeting you,
OpenERP
(650) 307-6736
More information: events@openerp.com







(OpenERP reserves the right to cancel, re-name or re-locate the event, change the agenda or change the dates on which it is held.)