OpenEHR within a mature NHS Ecosystem – The Plymouth Perspective
Description
OpenEHR within a mature NHS Ecosystem – the Plymouth Perspective
We are delighted to be hosting this conference on the 18th of April. This is FREE to attend and places are limited.
This event is an ideal opportunity to learn about OpenEHR from a national and international perspective.
From a local perspective, we want to showcase the incredible progress made in the South West, as well as exploring what other opportunities there might be for SMEs in the OpenEHR environment.
Target Audience:
CIOs, CCIOs, CMIO's, SME decision-makers, software architects and developers, leaders of change and innovators.
Background:
OpenEHR (Open Electronic Health Record, pronounced OpenAir), a Worldwide open standard repository for patient clinical data is becoming a REAL alternative to traditionally licensed software for the provision of HIMMS[1] Level 6/7 electronic medical records (EMR's).
University Hospitals Plymouth NHS Trust will soon be the first NHS Trust to go live with an implementation of OPENeP, an openEHR based, open source solution by Marand for Electronic Prescribing and Medicines Administration (ePMA). Fully supported by NHS Digital "Code4Health" and the not-for-profit Apperta Foundation, this innovative approach will, for the first time, provide a platform with true data independence and vendor neutrality.
In addition, University of Plymouth is leading on a number of projects in Devon and Cornwall to foster a Digital Health Ecosystem using a bottom up SME led approach. As part of these projects, the University is absolutely committed to embedding open standards and technologies to enable seamless interoperability and integration.
Questions:
What does this mean for the Trust?
Why now?
How can innovative, health-focused projects by the University of Plymouth across Devon and Cornwall support an Ecosystem to drive it forward?
What does it mean for other NHS Trusts?
What's in it for SME's, locally, Nationally and Internationally?
These are just a selection of questions always on everyone's mind and the event will be an ideal place to answer these and many more.
Come along and learn about openEHR on a local, National and International scale and find out what it can do for you.
Come along and support the development of Plymouth and the Southwest Peninsula as a hub of innovation.
Andy Blofield - Director of IM&T (CIO), University Hospitals Plymouth NHS Trust

Dr. Arunangsu Chatterjee (BEng, MSc, PhD, MBCS, FHEA) - Associate Professor, Director of Technology Enhanced Learning & Distance Learning, Plymouth University
---
[1] http://www.himss.eu/healthcare-providers/emram
Programme: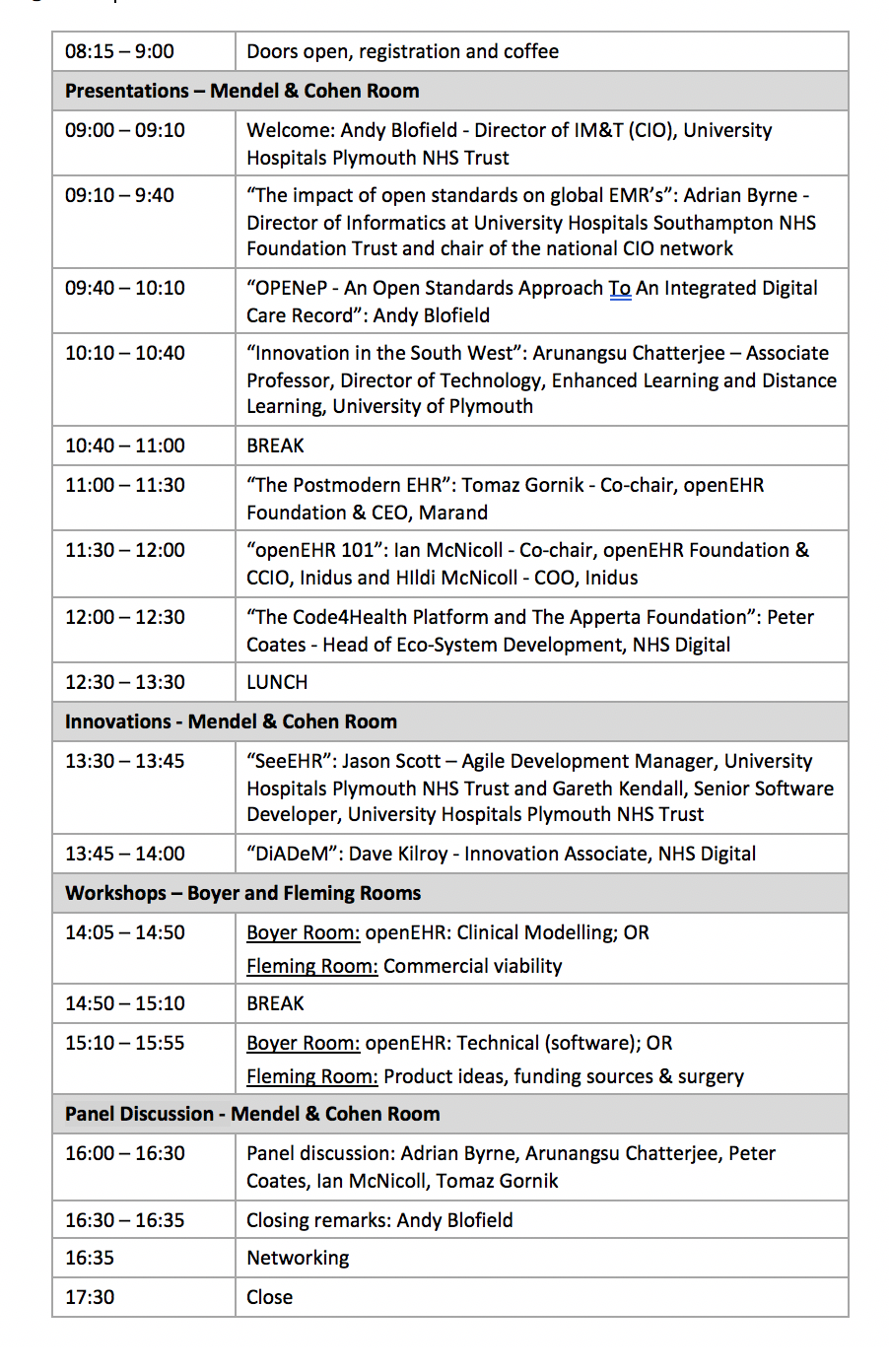 ---
FAQs
Where is the venue?
Future Inn Plymouth is situated five miles from Plymouth City Centre, one mile north of the A38 on the A386 Tavistock Road, the main north-south route in and out of the city. It is located close to Derriford Hospital, The Peninsula Medical School and Plymouth Science Park.
How to get there by Road?
From outside Devon or Cornwall take the M5 to Exeter and from there follow the directions in the next paragraph...
From Exeter or Cornwall take the A38 towards Plymouth and exit on the A386 towards Tavistock and the hospital. After approximately a mile turn right at the traffic lights into Plymouth International Business Park and then first left into the hotel.
From Plymouth City Centre take the A389 towards Tavistock and the hospital and continue over the A38 flyover. After approximately a mile turn right at the traffic lights into Plymouth International Business Park and then first left into the hotel.
From Tavistock take the A386 towards Plymouth City Centre. After Derriford roundabout turn left at the second set of traffic lights into Plymouth International Business Centre and then first left into the hotel.
The hotel's address is: Future Inn, 1 William Prance Road, Plymouth International Business Park, Plymouth PL5 5ZD - Tel: 01752 701000. The Hotel's Directions page provides a map and local travel information.
Is free parking available?
Yes, you can park in the hotel's carpark for free if you enter your car's registration number at the hotel's reception desk.
How to get there by rail?
Plymouth Station is is on the Glasgow and London to Penzance mainlines, and is approximately a 10-minute taxi ride from the hotel.
How to get there by Air?
Exeter Airport (EXT) is 48 miles to the north-east, Newquay Airport (NQY) is 86 miles to the west.
What are the accommodation choices?
Will you be paying any travel, accommodation or subsistence costs?
No. However during the conference we will be providing food and refreshments.
How can I contact the organizer with any questions?
Please contact Dave Kilroy via the CONTACT link at the bottom of this page.