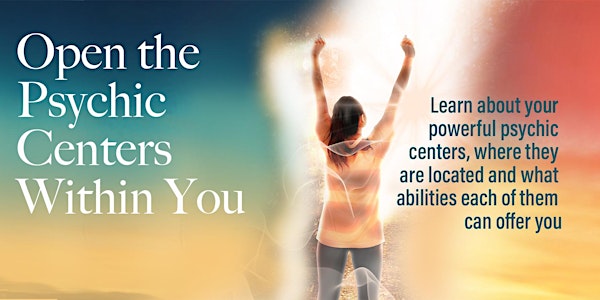 Multiple dates
Open Your Psychic Centers
Learn about the psychic centers within you, where are they located and what abilities each of them can offer you. 5 classes
Date and time
August 3 · 11:30am - August 31 · 1pm PDT
About this event
Learn to open the Psychic Centers within you
Benefits include:
• Expand the gift of intuition as a tool that you use in decision making
• Be able to master difficult and complex situations with ease
• Develop the ability to create harmony with others
• Heal various chronic conditions, both physical and emotional
• Dissolve old behavior patterns that have kept you stuck
• Neutralize negative generational thinking and behavioral patterns
• Learn to surround and protect yourself with the Light
• Make your Ideal Self a practical day-to-day resource
You will learn about the psychic centers within you, where are they located and what sort of abilities each of them can offer you.
Did you know that each cell has knowingness and understanding that is mostly untapped by your conscious mind?
It's true. Learning to be more aware through amplifying your psychic centers will allow you to know more about what is going on inside your body—harness more of your creative energy, live up to your fullest potential, and be happier with your life.
Classes held online on 5 Thursdays, starting August 3, and ending August 31, 2023.
To enroll in the entire series of 5 at the discounted rate of $225., click on the ticket for the first class and you will have the series rate option at checkout.