| | |
| --- | --- |
| | |
Event Details
 Join Mile High Multisport, LLC in the tranquil setting of Grant Ranch to improve your open water swimming skills. 2015 represents the 7th year we have been welcomed by the Grant Ranch Community. Athletes can work on their open water swim skills, sighting and transitions in preparation for the upcoming race season.  There is no other venue in Colorado which provides an environment which includes a marked course, showers and a lake free of motorized boats. Additionally, we offer swim clinics and swim races.  We will continue our race series this season and will host two this year, May 24th and July 5th.  Check the swim race series link after the first of the year for more information.
You do not need to be a client of MHM or any other organization to swim in the lake.  We welcome all clubs and other coaching services.  You are not required to be a member of COMSA to swim in the lake as we are self insured.
Swimming is open to the general public during the times listed below.  Children under the age of 18 must have a current USAT membership card AND approval prior to swimming. (Parents will need to complete a special waiver.)
Open Water swimming is hosted by Mile High Multisport, LLC.  Please DO NOT call the Grant Ranch offices asking for information on open water swimming. 
ALL INFORMATION PERTAINING TO SWIMMING IS LOCATED ON THIS SITE.
 I know there is a lot of information on this page, but please read everything and you will have all your questions answered. Thank you in advance for doing this!!  
 

For Liability reasons the person purchasing the ticket must be the user.  There is an online waiver associated with the purchase of your ticket which must be acknowledged by the ultimate user of the pass. 

You MUST print the waiver located on our web page and bring with you on your first day.  You only have to do this one time.  This is in addition to the online waiver.  (This is requried by the reservoir company)

 

Swimming outside of posted hours is considered trespassing and strictly prohibited

 

Please do not clean your wet suits in the locker rooms (clean them at home or use the hose when available)

 

Please rinse off any muddy feet with the hose located next to the soda machine

 

No admittance to the water within 30 minutes prior to closure.

 

Wet suits are NOT required

 

Swim partners are strongly encouraged but not required. 

There are no lifeguards on duty at any time.  

 

The Temperature of the water changes on a daily basis. We don't measure the temperature. The lake is only 12-28 feet deep so it warms up quickly. PLEASE don't write or call and ask what the current temperature of the lake is. (If you ask I'll just make up a number anyways)

 

Respect the community and residents at all hours. Remember, residents live adjacent to the lake and voices carry. When swimming in the early morning hours, PLEASE be respectful of the residents trying to sleep nearby.

 

We are a swim at your own risk lake

.   There are no lifeguards on duty on the water at any time. You must be adequately prepared to swim in open water. If you can't swim at least 750 -1000 yards in a pool without holding on to the sides then you probably aren't ready to swim in open water. We encourage swimming with partners, especially for those who are new to open water swimming or not comfortable swimming in open water. You MAY swim close to the shore line if you are unsure of your abilities. A limited number of Safety aides are provided free of charge. (first come first served)

 

You MUST WEAR A LIGHT COLORED CAP. 

CAPS WILL NOT BE PROVIDED AS THEY HAVE IN YEARS PAST. 

 (Dark Blue and Purple aren't light colored caps) 

No light colored cap, no admittance to the water.

 This helps other swimmers and lake users see you and this is written in the terms of our contract

 

There are no motorized boats on the lake (other than the marina safety patrol boat)  there may be residents sailing from time to time (this is very rare).  If you see a boat on the water please be vigilant and yield when applicable.  Chances are you will see them before they see you.

 

If you are riding your bike or running for a long time post swim, DO NOT leave your car in the parking lot.  The Grant ranch community uses the pool when we are finished and needs the parking spaces.
OPENING/CLOSING DATES:
 

Weekend

 Swimming Opens: Saturday, May 16, 2015 and Concludes on September 06, 2015 (the Buoys may come out before the end of the season. Last year it was only one week before.  This is out of my control)
 Week Day Morning  Open Water Swimming (No evening swimming this year):  
Begins Wednesday, JUNE 3rd, 2015 (morning) and will end August 28th.  (There is no week day swimming the first week of September).

PRICING/HOURS OF OPERATION: (TICKETS GO ON SALE 1/1/2015)
NO sharing of passes for any reasons. 
Passes do not carry over from year to year.
THE LAKE IS A RESERVOIR.  WATER LEVELS VARY THROUGHOUT THE YEAR FOR A VARIETY OF REASONS.  THE COURSE IS SUBJECT TO CHANGE THROUGHOUT THE SUMMER.
                           THERE ARE NO REFUNDS FOR ANY REASON!!!
Annual Pass:  
 $125 During January 2015  
 $135 During Februray 2015  
 $145 after March 1, 2015
Punch Passes:
 6

 Punch Pass: $70 

12 Punch Pass $120 
YOU MUST PURCHASE YOUR ONE DAY PASS IN ADVANCE OF ARRIVING AT THE LAKE. We do not accept cash on site. No Exceptions !!!
BRING YOUR TICKET AS PROOF OF PAYMENT. 
 

IF YOU DO NOT HAVE A PRINTER AT HOME, SAVE YOUR RECEIPT ON YOUR SMART PHONE AND SHOW IT TO THE MONITOR.
HOURS OF OPERATION: (Days we are not open)
Saturday and Sunday mornings:

 7:00am – 9:30am (You must exit the water by 9:30 am and the premises by 9:45 am) BEGINS THE WEEKEND OF MAY 18TH
 Wednesday and Friday mornings: Gates open at 5:30am – 7:00 am (You must exit the water by 7 am and the premises by 7:15 am. BEGINS Wednesday JUNE 3rd
 No week day evening swimming this year.
There is NO swimming on Saturday July 4th or Sunday July 5th (we have a race on the 5th and Grant Ranch has their holiday celebration on the 4th. If you want to swim on the 5th you need to sign up for the race.)
On June 6, 20 and July 11 there will be a youth swim meet at the pool. We can still swim but parking will be a little tougher to find.
GRANT RANCH RESIDENTS, PLEASE CONTACT THE FRONT DESK FOR DISCOUNT CODES BEFORE REGISTERING..
Once you have registered please bring your ticket receipt to the lake.  You will be provided a pass which you must bring with you each time, along with a photo ID.   If you don't have your pass, you can't swim. We will not have lists of participants as we have in years past   Photo ID and your ticket are required every time.  Don't assume the person working registration will know you. 
Monitors will be informed, NO Pass or ID, no swimming (It's a liability thing). IF YOU PRINT YOUR ONE DAY PASS MULTIPLE TIMES, WE HAVE A SYSTEM IN PLACE TO CATCH YOU. Someone tried this and was caught.  Monitors will keep your pass and return it to you when you exit the lake.  One day passes are not returened (This is our way of verifying entrance and exit of everyone from the water)
PARKING:
On weekday mornings and weekends, parking is not an issue.  On some week nights, parking will be difficult since the residents will also have use of the facility.  If the lot is full, there is additional parking at the school located 1/4 mile south on Grant Ranch Blvd.  If you park in the adjoining neighborhoods, please be respectful of the homeowners properties and neighborhood.  If you park on the street please pay attention to the "no parking" signs.
 DO YOUR PART AND CAR POOL so we can get more people in the lake.
LOCATION
                      7255 West Grant Ranch Boulevard  Lakewood, CO 80123 
COURSE LAYOUT: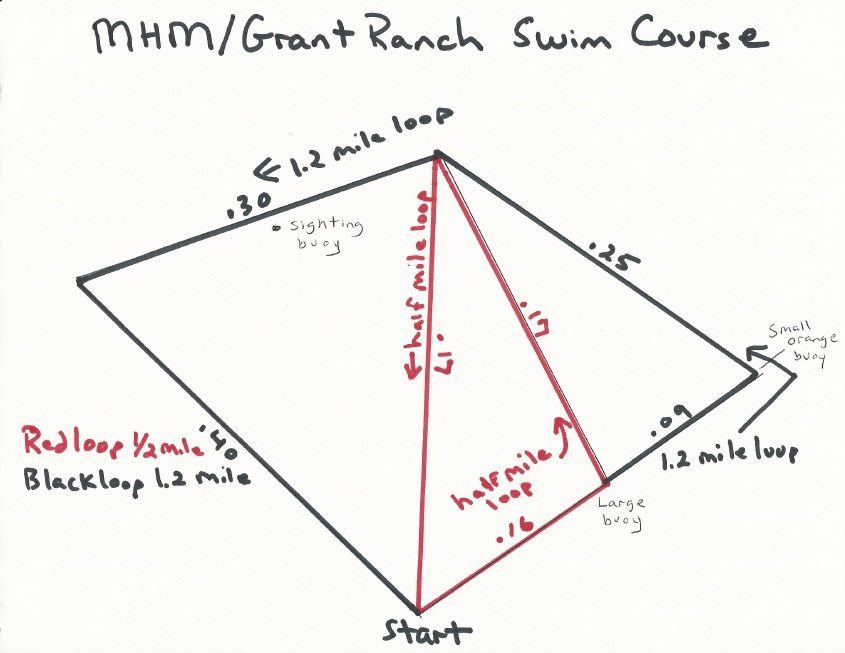 INCLEMENT WEATHER:
The lake will be closed if threatening weather is in the vicinity.  Please do not call MHM or Grant Ranch to ask if the lake is open.  An announcement will be posted on our face book page once we have knowledge the lake is closing.  Sometimes we won't know until we arrive on site.
IMPORTANT INFORMATION TO KNOW BEFORE YOU ARRIVE:
 Sorry but no dogs are allowed on the premises (If they were, I would bring mine)
Swimming only, NO SUP or Kayaking along your friends. there may be residents out kayking or SUP but our program does not allow for any outside equipment to be brought in for any reason.

Children are welcomed but are NOT allowed in the water or the pool deck. On the weekends they may use the playground facility, but may not during the week when the residents are using the facility.  Please do not expect us to watch your kids while you are swimming.

If you are swimming week nights, PLEASE do not arrive early and go in the club house for any reason. We want to remain transparent.  Entrance to the lake week nights will be Via the Club House.

YOU MUST WEAR A LIGHT COLORED SWIM CAP.

Please don't call/e-mail me or Grant Ranch asking what the temperature of the water is.   The temperature changes from day to day.

The lake has race style buoys.  We do our best to keep the course marked each week, but if the buoys move over night we may not be able to reset them.

There are showers and locker rooms in the club house for our use. Please note the time you must be out of the facility and respect the Grant Ranch Community by adhering to these hours and respecting the facilities.

Please car pool whenever possible.
Miscellaneous reasons to swim at Grant Ranch (Bowles Reservoir)
 

We have plenty of close in parking (It's even paved)

 

Showers/club house on site

 

Private lake with professionally landscaped area

  

No standing in the tall grass and weeds trying to get into your wetsuit

  

Swim course with race style buoys

  

We are self insured.  You don't have to be a member of any organization to join us.

  

We have our own monitors and safety kayaker(s) on the weekends

  

Swim aides will be available for free use (while they last)

  

Sure we have a lot of rules, but remember our situation is unique.  There is no other location in the state (or country that I'm aware of) that has our set up and relationship with the homeowners association. If we respect their rules we can swim in their lake.  It's that simple.
New to Open Water?  Want to Improve your Open Water Swim skills?
If you are new to open water swimming or want to improve your open water swim skills check out our open water swim clinics.  We have secured some of the top open water swimming instructors in the state to lead our classes.  Check out the open water swim clinic section on our web page for dates, times, instructors and costs.
*** AT ALL TIMES, REMEMBER WE ARE GUESTS OF GRANT RANCH. TREAT THE COMMUNITY AND THE RESIDENTS WITH RESPECT AT ALL TIMES.
Where

Grant Ranch (Bowles Reservoir)
7255 Grant Ranch Boulevard
Lakewood, CO 80123


Organizer
MILE HIGH MULTISPORT, LLC
Welcome to Mile High Multisport, LLC. Founded in 2004 by Peter and Kathy Alfino of Highlands Ranch, Colorado. Our goal is to deliver superior triathlon coaching services to multisport athletes regardless of age or ability. Our 40+ years of triathlon/multisport racing includes marathons, duathlons, mountain bikes, Xterra, sprint, Olympic, half Ironman and ten Ironman finishes. Our staff has successfully coached beginner triathletes to completion of their first races, as well as, elite athletes who have raced at the Triathlon World Championships. These experiences have given us a breadth of hands on knowledge to share with our athletes. As working parents of two active children, we realize that "HOW YOU TRAIN MAKES THE DIFFERENCE". Contact us today to discuss your coaching needs for the upcoming race season.