Open Water Swimming 2012

Saturday, May 19, 2012 at 1:00 PM (MDT)
Event Details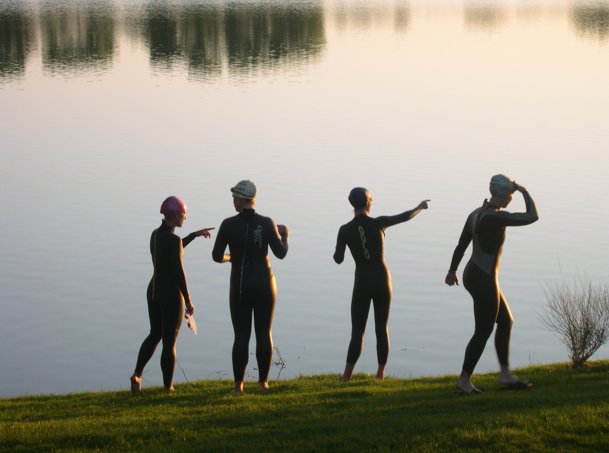 Join Mile High Multisport in the tranquil setting of Grant Ranch for open water swimming. 2012 represents the 5th year we have been welcomed by the Grant Ranch Community. Athletes can work on their stroke, sighting and wetsuit removal in preparation for their upcoming races. 
You do not need to be a client of MHM or any other organization to swim in the lake.  We welcome all clubs and other coaching services.  You are not required to be a member of COMSA to swim in the lake, we are self insured. 

Swimming is open to the general public during the times listed below.  Children under the age of 18 must have a current USAT membership card AND approval prior to swimming. (Parents will need to complete a special waiver. Please contact Pete Alfino prior to coming to the lake if you want your child to swim).

Open Water swimming is hosted by Mile High Multisport, LLC.  Please DO NOT call the Grant Ranch offices asking for information on open water swimming. ALL INFORMATION PERTAINNG TO SWIMMING IS LOCATED ON THIS SITE.  
·       Swimming outside of posted hours is considered trespassing and strictly prohibited.
·       Please do not clean your wet suits in the locker rooms (clean them at home)
·       No admittance to the water after 6:30 am on weekdays and 9 pm on the weekends. Too many problems with people who show up last minute and then don't get out of the water on time (and then are rude to me when I remind them of the hours)
·       Respect the Community and residents at all hours. Remember, residents live on the lake and voices carry. 
·       We are a swim at your own risk lake. We provide safety kayakers on most weekends BUT you must be adequately prepared to swim in open water. If you can't swim at least 750 -1000 yards in a pool without holding on to the sides then you probably aren't ready to swim in open water.  In short, be prepared, don't just wake up and decide you are going to swim in open water without preparing first. We encourage swimming with partners for those who are new to open water swimming.
·       You MUST wear a light colored cap (Dark Blue and Purple aren't light colored caps) No light colored cap, no admittance to the water. This helps other swimmers and lake users see you.
Opening Dates
·       Weekend Swimming Opens: Saturday, May 19, 2012 (Note, we reserve the right to change the opening day due to cold water.  When the water temperature hits low to mid 60's we will open. If it hits mid 60's before May 19th we may open earlier.  Last day to swim open water is 9/2/2012
·       Week Day Open Water Swimming: Begins Friday, June 1, 2012 and will end on Friday before Labor Day weekend. (8/31)
Fees
·       Annual Pass: $125 
·    10 Punch Pass:  $100 (Passes do not carry over from year to year)
·     5 Punch Pass:  $55 (Passes do not carry over from year to year)
No Sharing of punch passes
·        One Day Drop In:  $12 (YOU MUST PURCHASE IN ADVANCE AND BRING YOUR TICKET AS PROOF OF PAYMENT) Drop In tickets will only be available for certain period of times and will be noted on your ticket)
GRANT RANCH RESIDENTS, PLEASE CONTACT PETE ALFINO OR THE FRONT DESK FOR DISCOUNT CODES BEFORE REGISTERING..
 Hours of Operation/Location
·  7255 West Grant Ranch Boulevard
   Lakewood, CO 80123
*    Saturday and Sunday Morning: 7:00am - 9:30am (You must exit the premises by 9:45 a.m.)
o PLEASE NOTE, THERE WILL BE NO SWIMMING ON THE FIRST TWO SATURDAYS IN JUNE (the 2nd and the 9th) DUE TO A SWIM MEET TAKING PLACE AT THE FACILITY. IF YOU SHOW UP YOU WILL NOT BE ALLOWED TO SWIM IN THE LAKE.
·       Monday, Wednesday and Friday mornings: 5:30am - 7:00am (You must exit the premises by 7:15 am. No one will be allowed to enter the lake after 6:30 on week days and 9 a.m. on Weekends)
WE ARE OPEN 4TH OF JULY FROM 5:3-7:00 A.M. (YOU MUST BE OFF PREMISE BY 7 A.M THAT DAY)
·       NO Weeknight Swimming
·       Note, if you are swimming week days you must have your season/ punch card pass or drop in proof of purchase or you can not swim.  You will not be able to purchase passes on site during the weekday. 
·     Sorry but no dogs are allowed on the premises   
 If you compare us to Chatfield consider the following:
·       A COMSA membership and state park pass will cost $110 ($70 park pass, $40 Comsa. A one day entry fee to the park is $7)
·       We have plenty of close in parking (It's even paved) 
·       Showers/club house on site
·       Private lake with professionally landscaped area
·       No standing in the tall grass and weeds trying to get into your wetsuit
·       Swim course with race style buoys
·       We are self insured.  You don't have to be a member of any organization to join us.
·       We have our own monitors and safety kayaker(s) on the weekends
New to Open Water? Want to Improve your Open Water Swim skills?
If you are new to open water swimming or want to improve your open water swim skills check out our open water swim clinics.  We have secured some of the top open water swimming instructors in the state to lead our classes.  Check out the open water swim clinic section on our web page for dates, times, instructors and costs.
Important Information to know before you arrive
·       The lake will be closed if threatening weather is in the vicinity.  Please do not call MHM or Grant Ranch to ask if the lake is open. Once we have information something will be posted on our face book page once we have knowledge the lake is closing.  YOU MUST WEAR A LIGHT COLORED SWIM CAP.
 ·       Please don't call/e-mail me or Grant Ranch asking what the temperature of the water is.   The temperature changes from day to day.
·       The lake has race style buoys.  We do our best to keep the course marked each week but if the buoys move over night we may not be able to reset them.
·       There are showers and locker rooms in the club house for our use. Please note the time you must be out of the facility and respect the Grant Ranch Community by adhering to these hours and respecting the facilities.
·       At times, parking may be limited due to local swim meets in the pool. We will do our best to notify you of these dates in advance.
·       Please car pool whenever possible.
*** AT ALL TIMES, REMEMBER WE ARE GUESTS OF GRANT RANCH. TREAT THE COMMUNITY AND THE RESIDENTS WITH RESPECT AT ALL TIMES.
Masters Swim Class
         ·       May  2012 – September 3, 2012
·   Mon, Wed, Fri - 5:30am - 7:00am MT
·   Contact:  Pete Alfino

·   NOTE: This class is popular. Please confirm space availability with Pete prior to attending.
·       Masters swimming and open water swimming are separate programs. (Masters swimmers must pay to swim in the lake and lake users must pay to swim in the masters program)
When & Where

Grant Ranch Village Center
7255 Grant Ranch Boulevard
Lakewood, CO 80123


Saturday, May 19, 2012 at 1:00 PM (MDT)
Add to my calendar
Organizer
MILE HIGH MULTISPORT, LLC
Welcome to Mile High Multisport, LLC. Founded in 2004 by Peter and Kathy Alfino of Highlands Ranch, Colorado. Our goal is to deliver superior triathlon coaching services to multisport athletes regardless of age or ability. Our 40+ years of triathlon/multisport racing includes marathons, duathlons, mountain bikes, Xterra, sprint, Olympic, half Ironman and ten Ironman finishes. Our staff has successfully coached beginner triathletes to completion of their first races, as well as, elite athletes who have raced at the Triathlon World Championships. These experiences have given us a breadth of hands on knowledge to share with our athletes. As working parents of two active children, we realize that "HOW YOU TRAIN MAKES THE DIFFERENCE". Contact us today to discuss your coaching needs for the upcoming race season.