About this Event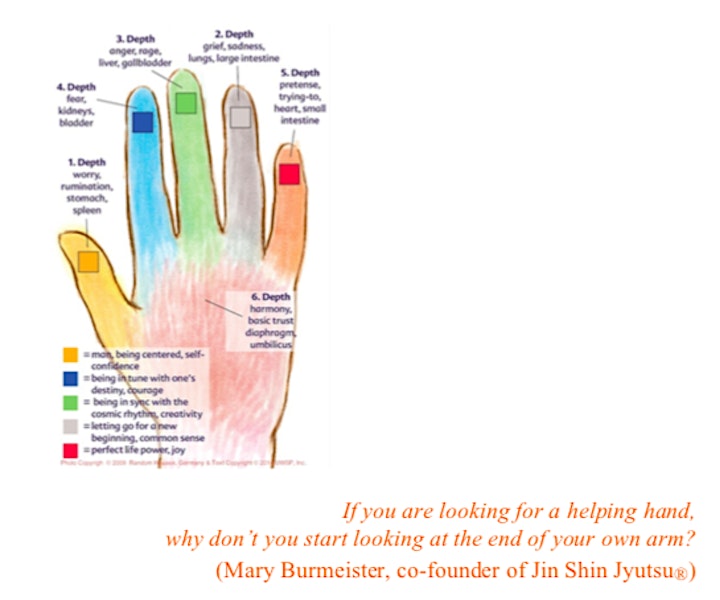 Shut the door on fear & open up to your inner universe. Now that we are all behind closed doors, remember that your health is literally in your hands.
A note from the host, Karla:
Kathrin has been my healer for over 5 years.
I describe her to friends as a wise, German woman with a doctorate degree and a publishing house – who does not mess around. Sounds impressive and serious, which it is, and perhaps a bit unexpected for someone who also does hands-on healing.
Oftentimes, energetic healing modalities can sound a little woo-woo or overly dramatic – and don't get me wrong, I love woo-woo, esoteric, and all things spiritual, – but with Kathrin's temperament it feels very grounded and soothing.
Whenever I need to be lifted up or set back to my center, I go to see Kathrin – my 'energetic chiropractor' – and practice the Jin Shin Jyutsu self-help she recommends back at home.
I know that after seeing Kathrin, I will feel a boost in energy, and be more connected to my inner self. I always leave the session with tools to re-create the healing experience at home.
Inspired by Kathrin's emphasis on anyone's and everyone's power to bring about self-healing, I knew that we had to create this online Zoom event so that people can experience this in their own homes.
This is an experiment, our first time co-leading, and our first time with this format.
We are in unknown, unprecedented times that call for us all to be brave, try new things, and empower ourselves to take healing into our own hands.
In this webinar, you'll experience :
Immune-boosting self-help that you can do at home
Guided meditation
An understanding of Health is in Your Hands – Jin Shin Jyutsu® (JSJ)
What if caring for yourself and others were literally in your hands?
This is exactly what Health is in Your Hands (JSJ) offers to humanity:
It's an accessible, yet sophisticated art of healing ourselves and others: physically, mentally and emotionally.
While Jin Shin Jyutsu® teaches a complex-yet-simple, highly effective approach to healing, it is fundamentally steeped in our innate knowledge of harmony and, in particular, the healing power of our hands.
In JSJ, our hands work as "jumper cables," as it were, which will recharge our empty battery and restore the flow of energy in body, mind and spirit; this, in turn, is key to a healthy and harmonious life.
Countless years of studying and a vast trove of experience and knowledge have gone into the energetic hand choreographies, the so called "flows," which were brought to us by the late Mary Burmeister [1918-2008] from Japan (modern JSJ originated with Jiro Murai [1886-1960]) and which Kathrin presents in such a way that we can easily apply them to ourselves and others.
Exhausted or worried? Simply hold your thumb!
Gently holding our fingers addresses our physical, mental and emotional health concerns and restores harmony on all levels while taking care of our bodily 'fuse box' at the same time.
How it works:
1. Get your ticket here on Eventbrite
2. Download Zoom, if you haven't used it before: https://zoom.us/download#client_4meeting
3. Zoom link will be emailed before the start time.
Tickets are donation based
(suggested $25 - $40 or what you would spend on a wellness workshop)
Please email karla@chooselovenow.co for a free ticket. No one will be turned away for lack of funds.
Deeper wellness in our society means realizing we are all connected.
Beyond the mind body soul connection.
Human to system connection.
Our culture is sick.
This is why we are giving 30% of ticket sales to this community led project that is feeding ICU and ER staff with NYC Restaurants who are struggling to stay afloat:
https://www.gofundme.com/f/feed-ny-icu-workers-support-local-restaurants
We take responsibility for bringing health to ourselves and our community.
About the practitioner:
Dr. Kathrin Stengel is a certified Jin Shin Jyutsu® practitioner and teaches JSJ self-help in NYC. She has been teaching Vipassana Meditation since 2002, after practicing since 1997. Kathrin is an author, philosopher and co-founder of the philosophical studio and publishing house UWSP, Inc., which published the bestselling book-and-card-set "Health Is in Your Hands: Jin Shin Jyustu® – Practicing the Art of Self-Healing." by Waltraud Riegger-Krause. Connect and get more information & free videos: www.health-is-in-your-hands.com
About the host: Karla Rasmusson
Karla Rasmusson is the founder of Choose Love Now and a Kundalini Yoga and Meditation practitioner. Connect at www.wonderphant.life or Instagram at @wonderphant and @chooselovenow