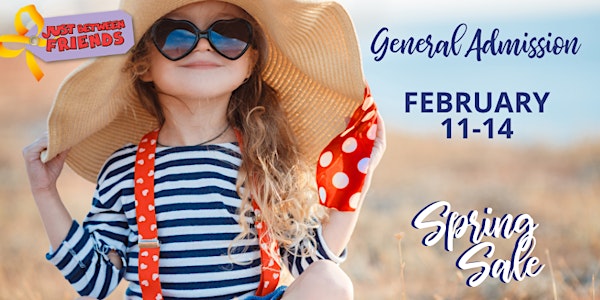 Open to the Public General Admission | JBF OP Spring 2021
The world has slowed down, but your kids keep growing. Shop and get everything they need for the Spring at 50-90% off retail!
When and where
Location
Overland Park Convention Center 6000 College Blvd Overland Park, KS 66211
About this event
Life has slowed down but our kids keep growing. 🌱 That's why we're committed to helping local families buy and sell things their children need (and want) in a safe, spacious, and sanitary manner.
At the Just Between Friends Overland Park Spring Sale, you will find clothing for warmer weather, shoes, baby gear, toys, books, games, and so much more. With prices 50-90% off of retail, this is one sale you cannot afford to miss. 🤑
Our upcoming sale will bring hundreds of local families together who will be selling great items that your kids will love 💜...and you'll love the prices even more!
We're taking extra precautions to keep families safe. Please read our Safety Plan here.
Please Note: To manage occupancy, and limit your wait time to enter the building, you will need to select your shopping day. Children do not need a ticket but do contribute to the overall occupancy numbers. For this reason, we recommend leaving them at home if at all possible. Tickets are limited, so claim yours now!
EXPERT JBF SHOPPER TIPS:
Bring a friend or relative so that you can "divide and conquer" our huge sales floor (each adult will need a ticket).
Bring your shopping list with clothing and shoe sizes.
Budget to shop for the next 6 months of your child's life (until our next sale!).
PAYMENT INFO:
We accept cash as well as VISA, MC, AMEX and Discover.
Full Sale Schedule
Wednesday, February 10th
• 9am-9pm - Consignors & Team Members Presale
• 1pm-9pm - Prime Time Shopping - $10 admission
• 3pm-9pm - Community Presale - Free
Thursday, February 11th
• 9am-8pm - Open to the Public - Free with ticket
Friday, February 12th
• 8am entry - Open to the Public At Risk Shopping - very limited capacity - Free
• 9am-8pm (NEW Merchandise Added) - Open to the Public - Free
Saturday, February 13th
• 9am-8pm - Open to the Public - Free
• 6pm-8pm - Half Price Presale - $10 admission
Sunday, February 14th
• 9am-3pm (Half Price Day*) - Open to the Public - Free
*Items without a star on the tag are half off.
~ We can't wait to see you -- from 6' away -- at the sale! 😷💜
-------------------------------------------------------------------------
Want to shop our sale earlier? Get Prime Time tickets HERE.
Want to shop our FREE Community Presale? Get tickets HERE.