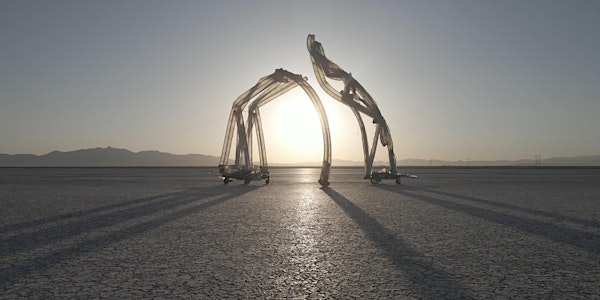 Open Studio & Film Screening at the Robotic Church
Upcoming film screenings & open studio event at the Robotic Church October 8th (SAT)
When and where
Location
Amorphic Robot Works 111 Pioneer Street Brooklyn, NY 11231
About this event
About this event
Chico MacMurtrie and Luise Kaunert are pleased to invite you to an open studio and screening of the Border Crossers film-in progress. Please find the schedule below and RSVP for the event!
Available Dates:
October 8th (SAT)
Robotic Church Event Schedule:
7:30pm | Doors open
7:30pm - 9:00pm | Open Studio
Explore the site-specific Robotic Church installation, our current projects, a new inflatable prototype, drawings, and more
Enjoy drinks and snacks
9:00pm - 9:30pm | Screening of Border Crossers
a film by Chico MacMurtrie
9:30pm - 10:00pm | Robotic Church activation
Note: This is a free event with limited seating. Please RSVP if you are planning to join!
Film Synopsis:
Inflatable robots on a daunting mission, Chico MacMurtrie's Border Crossers are conceived as metaphors for the dream of reconnecting across borders. At once vulnerable and resilient, these robotic Border Crosser sculptures illuminate communities and landscapes on their quest to robotically rise and arch over the U.S.–Mexico border from both sides.
About the Border Crossers Project
Border Crossers is an ongoing transnational public art project involving up to six inflatable robotic sculptures and trans-border communities. The Border Crossers' first public deployment at the U.S.-Mexico border occurred in May 2021 at the Naco, Sonora, Mexico and Naco, Arizona border. Two Border Crossers were simultaneously activated at both sides of the border in peaceful, symbolic, "crossing" performance of the U.S.-Mexico border, using the combined power of art, technology and community to create a radically positive and inclusive view of border culture.
http://amorphicrobotworks.org/border-crossers
About the Robotic Church
The Robotic Church is a site-specific installation and performance series comprising 50 computer-controlled pneumatic sculptures. Created between 1987 and 2006 and installed in Chico MacMurtrie's studio, a former Norwegian Seamen's Church in, Brooklyn, New York, these machines mesmerize with their percussive sounds and gestures. They express themselves through rhythm and body language, ranging from introspective solos to powerful ensembles erupting from different corners of the space. Rather than merely amplifying sound, the percussive machines are programmed to beat, strum, vibrate, spin, and otherwise play their own bodies to communicate in their own unique voice. Their syncopated outbursts of call-and-response evoke the origin of communication.
http://amorphicrobotworks.org/the-robotic-church
Social Media:
IG: @chico_macmurtrie
FB: https://www.facebook.com/RoboticChurchNewYork/
Photo Credits (from top to bottom):
Sterling Noren
Robert Wright
Eve Sussman