Open Streets Event Volunteer Opportunities!
Event Information
Location
Downtown and Eastbound San Jose (Check out new route on our website!)
Description
Viva CalleSJ is back! The City of San Jose's Department of Parks, Recreation and Neighborhood Services will be closing down miles of San Jose streets to bring communities together to walk, bike, skate, play, and explore the city like never before. This year the route will extend 7.3 miles through the heart of San Jose, from Downtown to Eastbound.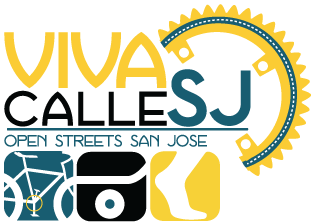 Engage with your community and participate as a volunteer at Viva CalleSJ! Whether you want to spread the word about Viva CalleSJ, help with setup and teardown, patrol the route, or monitor an intersection - we need you! We are currently recruiting volunteers to:
• Assist with Viva CalleSJ outreach
• Provide general information
• Provide route assistance
• Collect survey data
...and more!

To join as a volunteer, click on the "Register" button to reserve an available shift. Day of event volunteers can choose either morning (8:00am-12:00pm) or afternoon (12:00pm-4:00pm) shifts. Outreach Champion shifts will be from 10:00am-2:00pm pre-event date. Upon registering for this event, we will send you a follow-up email to discuss your preferred role of choice. You will have the option to choose from this list depending on availability:
Outreach Champion: Help pass out maps and information at the houses and businesses along the Viva CalleSJ route to help neighborhoods prepare for the event in advance. This volunteer option will take place on September 3rd and 10th; you have the option to choose one of the two.

Route Scout: Help preserve the safety of the event by patrolling the event on a bicycle, answering questions, giving directions, and helping inform participants about Viva CalleSJ road rules.

Survey Champ: Help by surveying participants in English, Vietnamese, and Spanish at the main entrance of each Hub. Additionally, you will assist in other supportive roles at our Activity Hubs.

Hub Ambassador: Help set-up and manage a booth where you will pass out promotional and informational material to participants. Additionally, you will guide participants to the fun events going on at the different Activity Hubs happening along the route. Activity Hubs located on the this year's Viva CalleSJ route include: Japantown , Roosevelt Park, Mexican Heritage Plaza, Alum Rock Village, and Lake Cunningham Park.

Looking to volunteer as a large group? Refer to our Adopt-an-Intersection program here! For questions about the program, please contact our Volunteer Coordinator, Amy Chamberlain, at amy.chamberlain@sanjoseca.gov.

For more information about Viva CalleSJ, visit our website at www.vivacallesj.org, and fill out an interest form here to receive news and ways to get involved!

Date and Time
Location
Downtown and Eastbound San Jose (Check out new route on our website!)