Open Sources . . . May

Tuesday, May 7, 2013 from 7:00 PM to 9:00 PM (PDT)
Event Details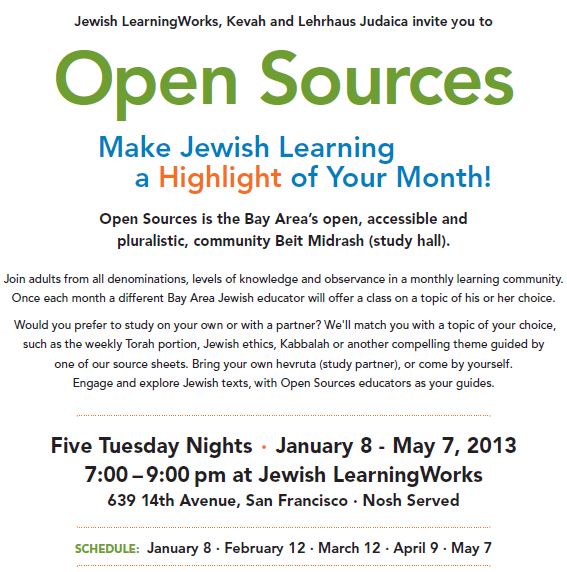 May 7, 2013 
Kevah Class with Joel Abramovitz
Topic: CShavuot: The Justice of Revelation.  A look at Shavuot and issues of ethics/ justice. 
Joel is thrilled to be a Kevah Teaching Fellow this year. He recently moved back to his hometown of San Francisco from Los Angeles, where he has lived and worked for the last decade. A recent graduate of Hebrew Union College with a Master's in Jewish Education, Joel teaches middle school Jewish studies at the Wornick Jewish Day School in Foster City. He loves fostering connections between his pre-teen students and Tanakh, Jewish history through texts, art, and social justice. When not teaching, grading papers, or commuting, Joel can be found experimenting in his kitchen or working on a crossword puzzle (in pencil... he's working up towards pen!).
New Israel Fund Conversation with Gina Lima
Topic: Where do we draw the line?  A conversation on Israeli/Palestinian borders.
Do you ever get confused about the Israeli/Palestinian borders? Do you wonder how mere lines on a map can fuel the current conflict? How do they affect the lives of both Israelis and Palestinians? 

In this two-part Conversation Circle, NIF Facilitation Fellow Gina Lima will lead you through a facilitated co-learning process to delve deeper into the meaning of borders and boundaries. Using interactive discussions, maps and texts from multiple perspectives, historical narratives, and your own personal experiences, we will work to develop an introductory understanding of the complex topic of Israeli/Palestinian borders and what it means to us.  

This session will help you explore the definition of a border and how the different perspectives on borders change the very design of the map of the region.   A second session is scheduled for May 30 (location TBD) and will help you go deeper by investigating how borders affect the lives of different stakeholders within Israel/Palestine? 
Beit Midrash (Study Hall) with Rabbi Yoshi Fenton
Topics: Pick a source sheet from a wide range of topics.
From a young age, Joshua has had a strong relationship to Jewish text and learning and received a Masters in Education from the Fingerhut school of Education, a part of the American Jewish University.  From 2007 to 2011, Josh was the founding Director of the APJCC's Center for Jewish Life and Learning where he taught classes in Parshanut, Musar, and Rabbinics.  Josh currently serves as Associate Director of Jewish LearningWorks of San Francisco.  Rabbi Fenton and his wife, Claire, live with their three children in the East Bay
Scheule:
7:00 Arrive and Shmooze
7:10 Select your session 
7:15 Sessions begin
8:45 Sessions Wrap Up
9:00 End 
Questions? Contact Rachel Dorsey: rdorsey@jewishlearningworks.org
When & Where

Jewish LearningWorks
639 14th Ave
San Francisco, CA 94118


Tuesday, May 7, 2013 from 7:00 PM to 9:00 PM (PDT)
Add to my calendar