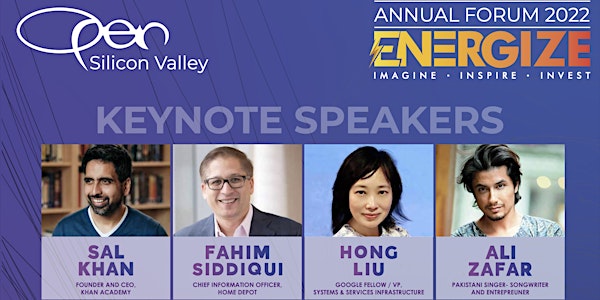 OPEN Silicon Valley Annual Forum 2022
OPEN Silicon Valley is organizing its Annual Forum 2022 with a focus on Fintech, Web3, Gaming and Climate Change.
When and where
Location
Santa Clara Convention Center 5001 Great America Parkway Santa Clara, CA 95054
Refund Policy
Refunds up to 30 days before event
Eventbrite's fee is nonrefundable.
About this event
This year OPEN Silicon Valley brings you a one-of-a-kind Multi-City Forum. Explore everything in-person and digital from esteemed speakers all around the globe. Be a part of this and accelerate your business, grow your career, meet the advisors, connect with the VCs and bring your ideas to life.
Get to know about -
𝗚𝗮𝗺𝗶𝗻𝗴 | 𝗠𝗲𝘁𝗮𝘃𝗲𝗿𝘀𝗲 | 𝗩𝗥 | 𝗕𝗮𝘁𝘁𝗲𝗿𝘆/𝗘𝗩 | 𝗠𝘂𝗹𝘁𝗶-𝗖𝗹𝗼𝘂𝗱 | 𝗛𝗲𝗮𝗹𝘁𝗵𝘁𝗲𝗰𝗵 | 𝗙𝗶𝗻𝘁𝗲𝗰𝗵 | 𝗘𝗱𝘁𝗲𝗰𝗵 | 𝗡𝗲𝘁𝘄𝗼𝗿𝗸𝗶𝗻𝗴 | 𝗦𝗲𝗰𝘂𝗿𝗶𝘁𝘆 | 𝗪𝗘𝗕 𝟯.𝟬
The OPEN SV Annual Forum & Multi-City Conference will be co-hosted in Pakistan's three major cities in partnership with premier educational institutions – LUMS University in Lahore, National University of Sciences and Technology in Islamabad and Institute of Business Administration in Karachi.
The conference will give attendees, including students, a chance to network with and hear from business professionals, entrepreneurs and VC's within Pakistan and around the world. Each city will host a renowned Keynote Speaker, who is a top professional in their field.
OPEN Silicon Valley's Annual Forum will be livestreamed to these three cities, and attendees will have the incredible opportunity of being part of a live Keynote Speaker Session, streamed directly from Silicon Valley. This year, the forum will have three tracks, Metaverse & Gaming, Tech & Beyond and Invest in Pakistan, as part of its Annual Forum, of which select sessions will be presented in various cities through the OPEN Multi-City Conference. OPEN Silicon Valley with its partner organizations in Pakistan, is excited to embark on this history-making mission of launching Pakistan's first of a kind multinational, multi-city live conference