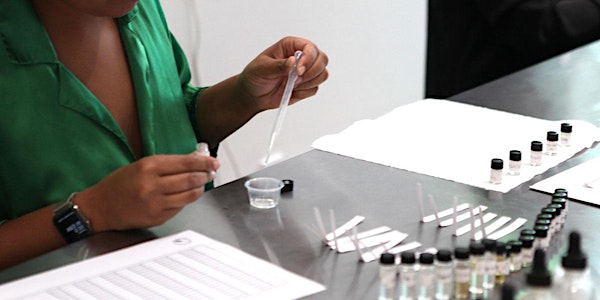 Open Sessions: Blending with Friends
Our longest-running program, open sessions present a guided introduction to working with scent - with hands-on blending time!
When and where
Location
The Institute for Art and Olfaction - Chinatown 932 Chung King Road Los Angeles, CA 90012
Refund Policy
Contact the organizer to request a refund.
Eventbrite's fee is nonrefundable.
About this event
Blending aromatic molecules together into a composed perfume is not only fun, but creative, challenging and - sometimes - kinda relaxing. We can't promise you that you'll make the next Chanel No. 5, but we can guarantee that you'll come away with a healthy respect for the art, science and skill it takes to make a good perfume. Come find out for yourself!
--
Open Sessions are the IAO's longest running program, and are designed precisely for beginners who learn best by diving in, intermediate perfumers who want to explore new materials, or advanced perfumers who want to be part of a diverse and creative community!
Relaxed and self-directed (don't worry, we're here to help), these informal sessions are a great chance to get your first experiences, or refine your blending techniques, using the IAO's abundant organ.
After getting a one-hour introduction to the evening's curated materials, you will be able to independently tinker with five materials of your choice in a casual, social setting. We have everything you need: Aromatic materials (natural, synthetic, and some accords), perfumer's alcohol, beakers and droppers, scent strips and bottles… All you need to do is come with a notebook, and a curious mind.
Our open sessions are fulfilling the IAO's core mission to create public access to materials and learning around perfumery. In open sessions, we invite the public to experiment with scent in an unguided way, in our functional perfumery laboratory.
Down the rabbit hole you go!
__
TAKE-AWAYS
Participants will spend several hours learning about and working with aromatic materials, and leave with a sense of the basics of blending, their five materials (in ⅝ dram vials), and a small first trial in a spray vial.
__
WHAT TO EXPECT
Upon first arrival, there is a one hour smelling session with the evening's attendees. You will be prompted to talk about and - eventually - select materials. When you've decided which five scents you'd like to work with, we'll make your vials and set you up at a work station with your materials. You can take the vials home, of course, as well as anything you make during your session.
__
COSTS
Intro (first-timers) Session: $50.00 (Materials Included)
This includes the use of our labware, glassware, pipettes, scent strips, and your choice of five vials of aromatics to work with.
if you want to work with more than five materials, you can buy extra materials on site, at the prices below.
Returning Students: $15.00 + Materials a la carte
Returning students bring their own materials. As such, they simply pay a lab fee, and for any further materials they use. You can purchase as many – or as few – as you desire, and of course are encouraged to bring your own materials from home.
Further materials are available for purchase on site:
+ 5/8 dram vial: $3.50
+ 1 dram vial: $5.00
We accept cash, paypal, Venmo and credit cards. If paying by cash, bring small bills.
Please note that whether or not you have attended before, you must reserve your space in advance. If you just show up without reserving a spot, there is no guarantee we will be able to accommodate you. All levels are welcome, but our open sessions are 18 and up (or 14+, with adult supervision).
--
LOCATION
Location: We are located in Los Angeles' historic Chinatown neighborhood, on a pedestrian street that also hosts galleries, souvenir shops, production companies, design studios, and two very cool parrots. The IAO is wheelchair accessible.
Street Address: 932 Chung King Road Los Angeles CA. 90012 (213) 616-1744 hello@artandolfaction.com
To find us: Chung King Road is a pedestrian-only road that runs parallel to Hill Street, between Hill St and Yale St. See more information here: http://artandolfaction.com/visit
COVID POLICY FOR IN PERSON CLASSES
We're ensuring physical distance and air flow best we can, and would love it if you would wear masks as much as possible (except, obviously, when you're smelling).
We understand that people have different feelings about masks and vaccines. Nevertheless, we have a responsibility to keep our team and our community as protected from exposure as possible. For this reason, if you sign up for an in person class or event, please be prepared to adhere to our policies.
Upon arrival at the IAO, please:
+ Show proof of vaccination, or
+ Show proof of a negative Covid test taken within 24 hours of class
or
+ Wear a mask throughout your time at the IAO.
–
CANCELLATION POLICY
- Cancellation with refund or credit requests made 2 weeks or more (14 days) before the scheduled session will be honored with gusto! We'll miss you, but will 100% refund your spot, or give you credit for another class.
– Refunds or class credits requested less than 14 days before the scheduled sessipn: We will refund you 50% of your class fee. Why? Because we've already ordered the materials. – Refunds or class credits requested less than 48 hours before the class, on the day of the class or after the class has happened will not be granted. The exception to this, of course, is if you have been exposed to Covid-19, or are feeling symptoms yourself.
- Cancellations or refund requests must be made by email or via the Eventbrite 'request refund' option.
Note also that event tickets are non-transferable. Thank you for understanding!