About this Event
Formerly The Blue Moon Coffeehouse, the Open Road Coffeehouse takes place under the twinkling blue lights at the parish hall of the Channing Unitarian Universalist Church in Rockland, MA. Each show features a band and an open mic. We also serve Equal Exchange coffee and homemade snacks. The atmosphere feels like... enjoying good music with good friends.
Admission
Admission is $10 online or at the door. Proceeds benefit Channing Church. Children under the age of 12 do not require a ticket. This is an all-ages show.
Open Mic
During the band's break we will have an open mic set. It's a great place to hear some new talent and to enjoy a variety of musical styles and approaches. Open mic is first come, first served. We will have 10 slots available, 5 before the midway break/raffle and 5 after. If we have a lot of signups, each performer is allowed one song only. If the open mic is "light," performers may do two. If you want to perform, just put your name on the sign up sheet at the entryway table. Please bring your own instrument and remember that this is an all-ages show.
Concessions
Coffee, tea, and baked goods will be available for purchase at the event. Proceeds benefit Channing Church.
FEATURING: Knock On Wood
Knock on Wood is a high-energy acoustic folk-rock duo, featuring singer-songwriter Howie Newman, who will be teaming with Joe Kessler for this show.
Combining acoustic guitar with fiddle, mandolin and pleasing vocal harmonies, the duo performs funny original music (suitable for all ages) and classic rock covers. It's a very lively, fun show with great musicianship, humor and lots of audience participation. For more information, including videos and music samples, visit www.howienewman.com/knockonwood.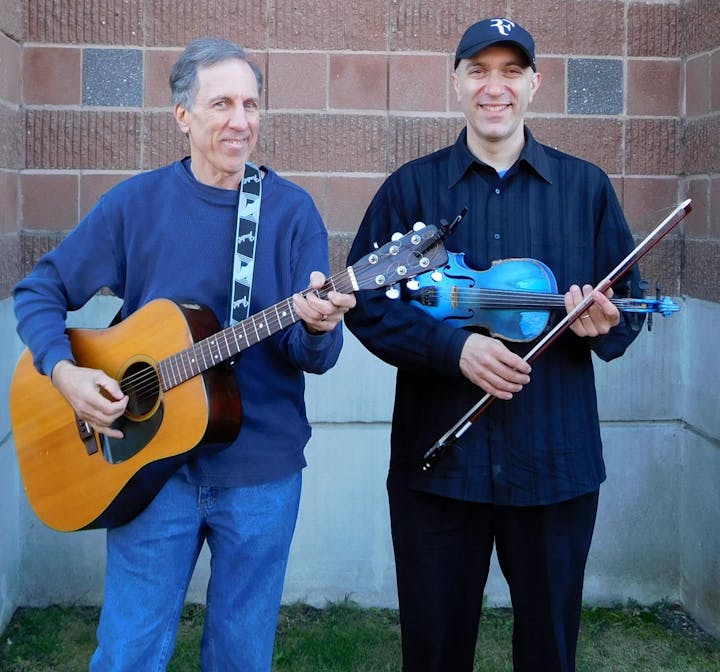 Howie Newman and Joe Kessler from Knock On Wood