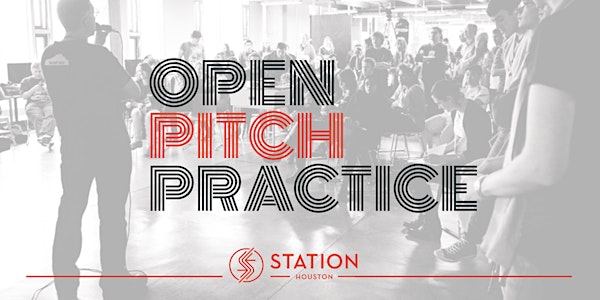 Open Pitch Practice
When and where
Location
Station Houston 1301 Fannin Street #2440 Houston, TX 77002
Description
The phrase, "Practice makes perfect," is especially true when it comes to your pitch. At Open Pitch Practice, you'll have the opportunity to get comfortable delivering your pitch with confidence in a casual, safe environment. Get feedback from fellow founders who've been in your shoes - and some of the Station team, too!
Not quite ready to pitch? Observers are welcomed!
Please NOTE: In order to allow everyone an opportunity to pitch and receive feedback, each presenter will be allotted 10 minutes. We encourage presenters to aim for a 5-6 minute pitch, to allow 4-5 minutes of feedback from the panel. Please note, pitch sign-up is first come, first serve.
The Power of Practice - An Open Pitch Practice Success Story:
After getting accepted into the Rice University Energy & Cleantech Ventures Forum, Syzygy Plasmonics attended Open Pitch Practice, where their pitch made its first public debut. Fast forward to May 2018 and Syzygy has since pitched at the Offshore Technology Conference. After both the Forum and Conference, they were approached by potential investors, customers, and development partners.
"Learn how to fly in a safe space so you don't crash in burn in front of investors. Learning to pitch is one of the single most important things a founder can do." - Trevor Best, CEO of Syzygy Plasmonics
Who Should Attend:
- Startups looking to raise funds from investors
- Entrepreneurs trying to earn new customers
- Founders trying to convey idea to get feedback in the early stages
What You'll Learn:
- How to improve stage presence and clarity
- Tips to conquer public speaking fears
- Feedback to improve content of speech (and pitch deck, if using one)
Please register, both if you plan to pitch or observe. If you plan to pitch, please arrive on time, as pitch sign-up will be first come, first serve on-site.