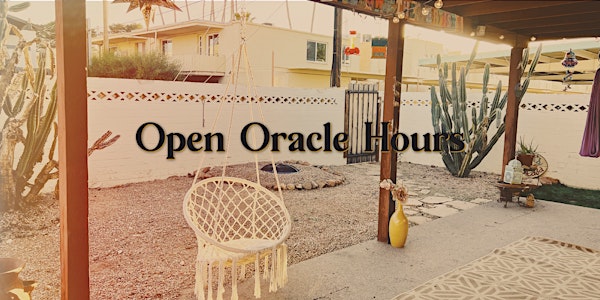 Open Oracle Hours
Because we all need a place to just ask some damn questions…
When and where
Location
Temple of the Esoteric Arts 6957 East 2nd Street Apt B Scottsdale, AZ 85251
About this event
Because we all need a place to just ask some damn questions…
Born as a Clairvoyant with Clairaudience, Clairsentience & Claircognizance there is much messaging that runs through me. Visions and whispers and teachings that I will explain and expand on to whatever degree you wish.
….
Saturday November 19th, 6-8pm Open Oracle Hours is time and space where I will open my home to all who are interested in learning more about what they are experiencing and looking at. This is a chance for you to ask whatever you want to ask, both personally or globally and also share that which you are receiving and need help understanding and integrating.
….
Why do I need an altar? I don't understand Masculine and Feminine energy? Why can't I figure out this manifestation thing? What do you mean "ceremony"? What in the actual eff is going on within humanity and what else do you see Olivia??
….
We are all in this together, we are all on the same path yet different locations. The point is to share the information. The point is to uplift and nourish one another. The point is to provide reflection and integrate. The point is to #HEAL and remember our #AUTHENTICITY.
This is the power of #LOVE and I've gotchu.