Readings by Benjamin Garcia, Meg Day, Jihyun Yun, Callista Buchen and Leila Chatti, with an opening mini-feature by Rome Hernández Morgan.
About this Event
The annual Open Mouth Reading Series Poetry Festival is going virtual!
Join us on Saturday, October 31st, 2020 at 7:00pm CDT for readings by Festival features Benjamin Garcia, Meg Day, Jihyun Yun, Callista Buchen and Leila Chatti, with an opening mini-feature by Rome Hernández Morgan.
**
The reading will take place virtually via Zoom with Otter Live Captions, and an ASL interpreter will be present. Access copies of all poems will be provided via Google Docs.
Suggested donation of $5.
Every donation to Open Mouth Reading Series supports our programming, ASL interpreters, and feature poets. Become a monthly patron on Patreon or make a one-time donation at our PayPal or to our GoFundMe campaign.
For more Poetry Festival events, visit the Events page on our website.
**
FEATURED READERS:
Benjamin Garcia's first collection, Thrown in the Throat (Milkweed Editions 2020), was selected by Kazim Ali for the 2019 National Poetry Series. He works as a sexual health and harm reduction educator throughout the Finger Lakes region of New York. His poems have recently appeared or are forthcoming in: AGNI, American Poetry Review, Kenyon Review, Lithub, and New England Review. Find him at benjamingarciapoet.com
Deaf, genderqueer poet Meg Day is the author of Last Psalm at Sea Level (Barrow Street 2014), winner of the Publishing Triangle's Audre Lorde Award, and a finalist for the 2016 Kate Tufts Discovery Award, and the co-editor of Laura Hershey: On the Life & Work of an American Master (Pleiades 2019). The 2015-2016 recipient of the Amy Lowell Poetry Travelling Scholarship and a 2013 recipient of an NEA Fellowship in Poetry, Day's work can be found in, or forthcoming from, Best American Poetry 2020, The New York Times, AGNI, Beloit Poetry Journal, and elsewhere. Day is Assistant Professor of English & Creative Writing at Franklin & Marshall College. Read more at www.megday.com.
Jihyun Yun is a Korean American poet from the San Francisco Bay Area. A winner of the Prairie Schooner Book Prize in poetry, her debut collection Some Are Always Hungry was published by The University of Nebraska Press in September 2020. A Fulbright research grant recipient, she received degrees from UC Davis and New York University. She currently lives in Ann Arbor, Michigan. Find her at www.jihyunyun.com
Callista Buchen's debut full-length poetry collection, Look Look Look, was published by Black Lawrence Press in October of 2019. She is also the author of the chapbooks The Bloody Planet (Black Lawrence Press, 2015) and Double-Mouthed (dancing girl press, 2016). Her poetry, prose, interviews, and reviews appear in literary journals including Harpur Palate, Puerto del Sol, Fourteen Hills, Poetry Daily, and others, while her collaborative writing with the poet Amy Ash appears in BOAAT, Poetry South, and Tahoma Literary Review. She is the 2019 winner of the C.D. Wright Conference's Nan Snow Emerging Writer Award, as well as a Creative Arts Renewal Fellowship from the Arts Council of Indianapolis. She holds a Ph.D. from the University of Kansas, an M.F.A from Bowling Green State University, and an M.A. from the University of Oregon. She teaches at Franklin College, where she directs the creative writing program and the Carlson-Stauffer visiting writers' reading series.
Leila Chatti is a Tunisian-American poet and author of Deluge (Copper Canyon Press, 2020) and the chapbooks Ebb (Akashic Books, 2018) and Tunsiya/Amrikiya, the 2017 Editors' Selection from Bull City Press. Her honors include a Pushcart Prize, grants from the Barbara Deming Memorial Fund and the Helene Wurlitzer Foundation, and fellowships from the Fine Arts Work Center in Provincetown, the Wisconsin Institute for Creative Writing, and Cleveland State University, where she was the inaugural Anisfield-Wolf Fellow in Publishing and Writing. She is currently pursuing a PhD in creative writing at the University of Cincinnati, where she is a Provost Fellow. Her poems appear in The New York Times Magazine, Ploughshares, Tin House, American Poetry Review, and elsewhere. Find her at www.leilachatti.com, or on social media: Twitter, Instagram, and Facebook at @laypay.
EVENT HEADER IMAGE DESCRIPTION:
A series of images of the five featured poets side by side with a thin white outline around each photo, overlaid on a light blue background. Below the images are the words "Open Mouth Festival Reading, with Benjamin Garcia, Meg Day, Jihyun Yun, Callista Buchen, Leila Chatti, and opening reading by Rome Hernández Morgan." Availability of sign language interpretation is indicated by the presence of an icon showing two hands signing in the bottom left corner.
DESCRIPTIONS OF THE FIVE FEATURED POETS' AUTHOR PHOTOS FROM LEFT TO RIGHT:
Benjamin Garcia: Headshot of a 30-year-old Mexican man of native descent in front of an off-grey background. He has light brown skin and almond-shaped dark brown eyes. His hair is long and straight, which he wears parted down the middle and draped over his shoulders. He is dressed in a black turtleneck sweater, with his head partially tilted and a warm facial expression.
Meg Day: A profile portrait of a white transmasc person with short blonde hair looking to the left with a neutral expression on their face. They are wearing a denim button-down shirt & the background is all-white.
Jihyun Yun: Woman with long black hair crosses her arms and looks down while smiling. (Photo credit: Sunju Lim)
Callista Buchen: Photo of a 36 year-old white woman with bleached hair wearing a navy blue top with a keyhole neckline, standing outside in fall.
Leila Chatti: Woman with brown hair and black shirt against green background.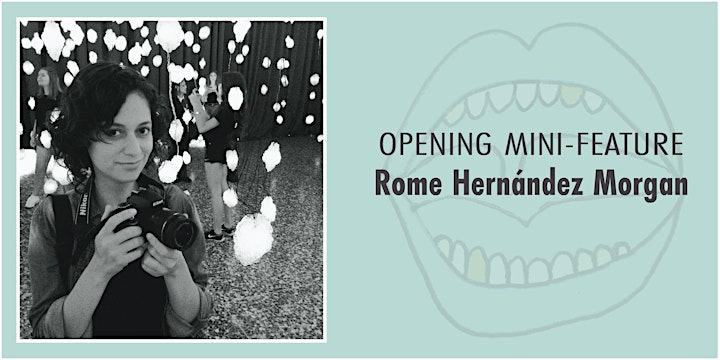 OPENING MINI-FEATURE:
Rome Hernández Morgan is a Mexican-American, queer poet, writer, and translator. She is currently an MFA candidate in poetry at the University of Arkansas, where she is a Walton Fellow, and has been the recipient of a scholarship to the Sewanee Writer's Workshop. Her writing has appeared in or is forthcoming from Prairie Schooner, Blackbird, New Ohio Review, and The Journal.
IMAGE DESCRIPTION:
Left side: A woman with dark hair and eyes holds a camera and smiles. She is surrounded by hanging lights. (Photo credit: Patrick Font)
Right side: image of open mouth logo—a line drawing of lips around an open mouth with tongue & uvula snowing behind teeth, two of which are gold—on a blue background overlaid with the text "Opening Mini-Feature: Rome Hernandez Morgan."
**
Special thanks to the King Fahd Center for Middle East Studies at the University of Arkansas for co-sponsoring this year's festival.