About this Event
The annual Open Mouth Reading Series Poetry Festival is going virtual!
Join us on Friday, October 30, 2020 at 7:00pm CDT for readings by Festival features Michael Torres, Jessica Abughattas, Eloisa Amezcua, Shannon Sankey and Allison Joseph with an opening mini-feature by Calypso Jane Selwyn.
**
The reading will take place virtually via Zoom with Otter Live Captions, and an ASL interpreter will be present. Access copies of all poems will be provided via Google Docs.
Register for the virtual reading by clicking on the "Registration" button on the Eventbrite page, donating any amount you can, and entering the required fields. You will receive an email with the Zoom information.
Suggested donation of $5.
NOTE: If you are unable to donate at this time, simply enter $1.00 as your donation amount (not zero) and click "check out," and then click "pay at the door" as your payment option. Once you have filled out all required fields, you will still be able to register, and you can keep your dollar.
Every donation to Open Mouth Reading Series supports our programming, ASL interpreters, and feature poets. Become a monthly patron on Patreon or make a one-time donation at our PayPal or to our GoFundMe campaign.
For more Poetry Festival events, visit the Events page on our website.
**
FEATURED READERS:
Michael Torres was born and brought up in Pomona, California where he spent his adolescence as a graffiti artist. His debut collection of poems, An Incomplete List of Names (Beacon Press 2020) was selected by Raquel Salas Rivera for the National Poetry Series. His honors include awards and support from the National Endowment for the Arts, the McKnight Foundation, the Bread Loaf Writers' Conference, CantoMundo, VONA Voices, the Minnesota State Arts Board, the Jerome Foundation, the Camargo Foundation, and the Loft Literary Center. Currently he's an Assistant Professor in the MFA program at Minnesota State University, Mankato, and a teaching artist with the Minnesota Prison Writing Workshop. Visit him at michaeltorreswriter.com
Jessica Abughattas is from California. Her debut book, Strip (University of Arkansas Press), is the winner of the 2020 Etel Adnan Poetry Prize selected by Fady Joudah and Hayan Charara. A Kundiman fellow, her poems appear in Tupelo Quarterly, Waxwing, Redivider, Best of the Net 2019, and other places. She lives in Los Angeles. Visit her at www.jessicaabughattas.com or on Instagram and Twitter at @abugoddess
Eloisa Amezcua is from Arizona. Her debut collection, From the Inside Quietly, is the inaugural winner of the Shelterbelt Poetry Prize selected by Ada Limón. A MacDowell fellow, Eloisa is the founder of Costura Creative. Her second collection of poems, Fighting Is Like a Wife, is forthcoming from Coffee House Press. Visit her at www.eloisaamezcua.com and on Twitter at @Eloisa_Amezcua
Shannon Sankey is the author of We Ran Rapturous (The Atlas Review 2019). Her poems have appeared at Poets.org, Best New Poets 2019, Black Warrior Review, Puerto del Sol, Glass: A Journal of Poetry, the minnesota review, and elsewhere. She is the recipient of a 2017 Academy of American Poets Prize and a 2019 SAFTA residency. She holds an MFA from Chatham University, where she was the Whitford Fellow. She is the founder of Stranded Oak Press. Visit her at www.shannonsankey.com, or on Twitter at @shansankey
Allison Joseph lives, writes, and teaches in Carbondale, Illinois, where is she is part of the creative writing faculty at Southern Illinois University Carbondale. The author of many books and chapbooks of poetry, she is the widow of the poet and editor Jon Tribble, to whom The Last Human Heart is dedicated. Read more about her at www.allisonjosephpoetry.com.
EVENT HEADER IMAGE DESCRIPTION:
A series of images of the five featured poets side by side with a thin white outline around each photo, overlaid on a light blue background. Below the images are the words "Open Mouth Festival Reading, with Michael Torres, Jessica Abughattas, Eloisa Amezcua, Shannon Sankey, Allison Joseph and opening reading by Calypso Jane Selwyn." Availability of sign language interpretation is indicated by the presence of an icon showing two hands signing in the bottom left corner.
DESCRIPTIONS OF THE FIVE FEATURED POETS' AUTHOR PHOTOS FROM LEFT TO RIGHT:
Michael Torres: This author photo was taken by my friend Henry Jimenez while I was visiting home in southern California in 2018. It was summer so a white shirt was all I was willing to dress up in. I met up with Henry in old town Temecula, near where he now lives. I've known Henry for over a decade and promised him--way back when we worked retail together at the mall--that I would like him to be the one to take my author photo when I "became a writer." This was circa 2008, twelve years before the publication of my first book. Henry and I are still good friends. (Photo Credit: Henry Jimenez)
Jessica Abughattas: A 28 year old woman with long, dark wavy hair and bangs stands in front of a window wearing a long sleeve beige dress with a black floral print. (Photo Credit: Christine Donlon)
Eloisa Amezcua: photograph of an early 30's poet with short brown hair, black tank top, sitting on the floor laughing gregariously. (Photo Credit: Kendra M. Lee)
Shannon Sankey: Shannon, dressed in a black denim jacket, smiles behind a microphone. (Photo Credit: Jordan Kepner)
Allison Joseph: Poet Allison Joseph, a Black woman, is visible from the shoulders up. She smiles slightly while making direct eye contact with the camera; she wears a zigzag printed scarf and a black short-sleeved top and her hair is pulled back in a headband.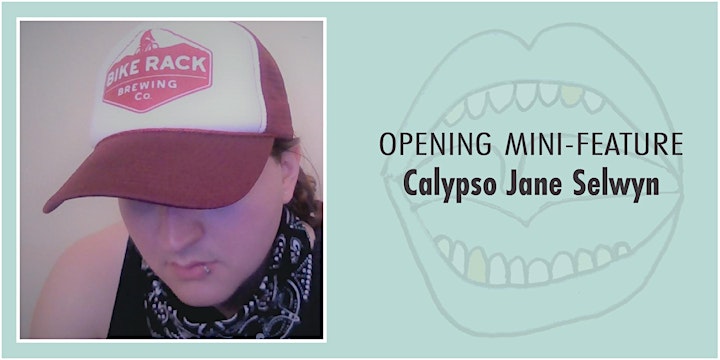 OPENING MINI-FEATURE:
Calypso Jane Selwyn is a transgender lesbian poet & horror writer from Fayetteville, AR, and a facilitator and reader with the forthcoming TWANG Anthology, which aims to showcase trans and gender-nonconforming voices in the American South and Midwest. Her Halloween playlist is better than yours.
IMAGE DESCRIPTION:
Left side: Calypso, a white woman with brown hair in front of a white wall. She wears a red and white mesh back cap which says "Bike Rack Brewing Co." The bill of the cap conceals her eyes. She also wears a black and white paisley bandana around her neck and a black tank top. She has a lip ring and a neutral expression.
Right side: image of open mouth logo—a line drawing of lips around an open mouth with tongue & uvula snowing behind teeth, two of which are gold—on a blue background overlaid with the text "Opening Mini-Feature, Calypso Jane Selwyn."
**
Special thanks to the King Fahd Center for Middle East Studies at the University of Arkansas for co-sponsoring this year's festival.