OPEN MODEL CALL AUDITION FASHION SHOW FOR FEMALE 5 FEET 8 AND UP IN NEW YOR...
Description
FEMALE 5'8 & UP MODEL - OPEN MODEL CALL AUDITION
FEMALE 5'8 & UP 13 TO 35 YEARS OLD
$6,120 in PRIZES TO THE FEMALE 5'8 & UP MODEL WINNER
Show Website - www.modeloftheyearcompetition.com

Company Website: www.Plitzs.com
Instagram: www.instagram.com/plitzsfashionmarketing
Facebook: www.facebook.com/PLITZS
Models – Amateur or Professional, looking to break into the glamorous world of modeling this is the chance of a lifetime!
At CHELSEA STUDIOS
151 West 26 Street
Between 7th Avenue & 6th Avenue
6th Floor
NEW YOR CITY
AUDITION ATTIRE:
WOMEN - Wear 2 Piece Swimwear Bikini under Fitted Skinny Blue Jeans and Fitted Plain White T-Shirt Top with Minimum 3 inch Stiletto Heels.

Female Models must be between the ages of 13 to 35 years old and height 5-8 and up and dress size 0 to 8.
The winners of the the "Fashion Model of the Year Competition & The Emerging Model of the Year Competition" will win $6,120 in PRIZES and will be a featured model in "PLITZS New York City Fashion Week" show.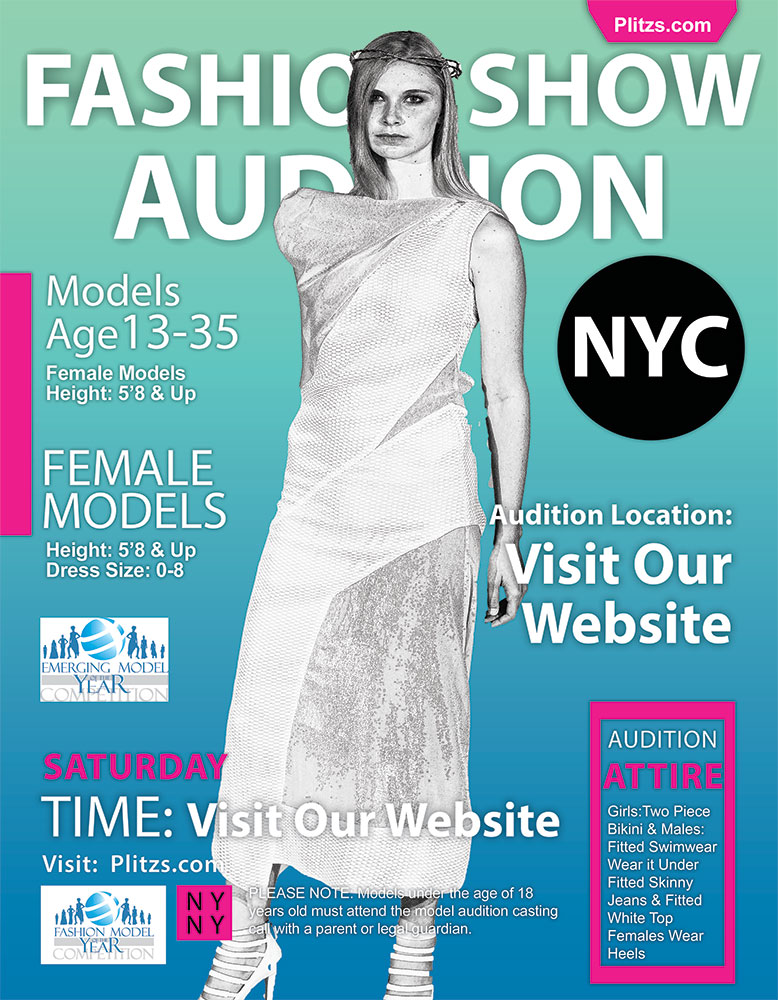 Date and Time
Location
CHELSEA STUDIOS
151 West 26 Street
Between 6th Ave. & 7th Ave. On the 6th Floor
New York, NY 10018