Description
Join writers and The New School alumni Aisha Jordan and Allen Strouse for an open mic. Bring your work to share or listen to others present their ideas, works in progress, or finished pieces.
This event is part of In the Historical Present, an exhibition in the Anna-Maria & Stephen Kellen Gallery featuring commissioned artworks, artist-led engagements and performances, and works drawn from the New School's art collection and archives in celebration of the university's Centennial.
Aisha Jordan is an Actor, Writer and Producer in Theater and New Media. She has her B.A. in The Arts from The New School, Eugene Lang College and her M.A. in Arts and Politics from NYU Tisch School of the Arts. Aisha is Staff Writer at the nerd entertainment site BlackNerdProblems.com where she highlights women of color in media. She currently writes and produces her own sketch comedy web series titled #HashtagTheShow, and is Host / Co-creator of the budding new podcast 2Nerds and an Actor. She holds a full time position as Program Associate with Fractured Atlas, an artist service organization that helps artists with the business side of their work. She currently resides in and reps The Bronx. Follow her on Instagram/Twitter/Facebook: @aishaj28
A.W. Strouse (Lang '08) is a poet and a queer scholar of medieval poetry. Strouse holds a doctorate in English and teaches as a part‐time professor at the City University of New York and at The New School. Strouse's publications include many academic articles on topics in medieval literature, as well as four books of poetry. Recent projects include a public sculpture in Iceland that queerly reinterpreted a Viking magical technology, along with a short, lyrical film about rural life in Appalachian Pennsylvania (with original country‐folk music written by Strouse). Forthcoming this year is Gender Trouble Couplets, a rendition of Judith Butler´s Gender Trouble re‐written into rhyming couplets.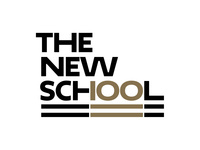 This event is part of The New School's Centennial celebration. Learn more at newschool.edu/100 • #100YearsNew