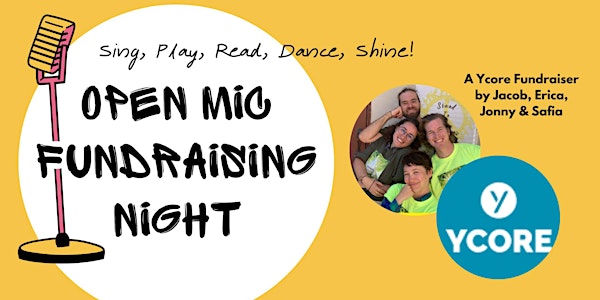 Open Mic Fundraising Night
Join us on Thursday, Sept 22nd for some live performances, drinks, snack, a raffle and an auction
When and where
Location
953 De Haro St 953 De Haro Street San Francisco, CA 94107
About this event
Will you be brave enough to jump on the stage and disclose your hidden talent? Come join us for a fun, social evening, in a safe, welcoming space with like-minded people to cheer you on! You want to karaoke your favorite 90's song? We got you! You want to read your favorite poem? We'll support you! Maybe you just want to sip a glass of Chardonnay and enjoy the show while thinking about how to win the romantic picnic for two or the dinner on the balcony of San Francisco at the silent auction…
Bring some cash and get your Venmo ready to buy your raffle tickets or play some games to get one of the organizers to sing a silly song! Oh and bring your instrument if you want to play on our beautiful stage overlooking San Francisco from the top of Potrero Hill. All forms of performance art accepted including, but not limited to: short stories, comedy, interpretive dance, meditation, and photography.
-- What's the price for the entrance? --
This event is a fundraiser and it's why we suggest a donation of $20 entry. Your RSVP donation will get you entry to our event from 6 to 9pm, drinks (including beer and wine) and snacks will be provided. There will also be plenty of games, raffle and auction prizes to bid on while enjoying your night.
-- What are we raising money for? --
YCore is a Bay Area based nonprofit that connects teams of fellows to local nonprofit organizations to collaborate on projects that the organization may otherwise not have the resources to complete. The mission is multipronged: YCore teaches and trains young professionals to be committed partners and advocates working towards community-based changes, while also giving nonprofits access to much-needed skills and resources. Ask us about our YCore experience and we'd love to tell you more about how we are working with our amazing nonprofit partner and using our skills and experience to support them!
The fellowship program includes bi-weekly workshops that teach critical skills for advocacy, and fellows like us get hands-on experience implementing these skills throughout the duration of the program.
If you like our organization but can't make it to the event, you can make a donation without RSVP at the check out :).
-- Who are the organizers? --
Jacob, Erica, Jonny, and Safia are fellows for the Summer22 cohort and are conducting community research to help The Potrero Hill Neighborhood House better understand it's community ever-changing needs and desires. They will be your host for a fun evening and might try themselves on the stage too!
RSVP to find out! Can't wait to see you there!
We are grateful for all the partners and their donations, without them this event wouldn't have been possible.