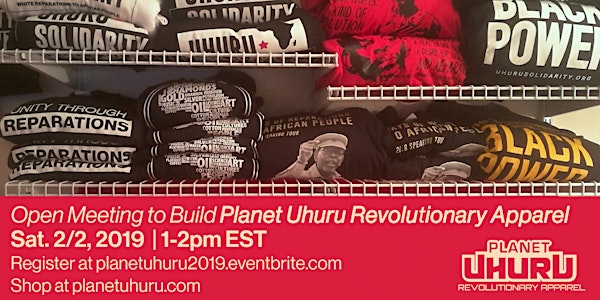 Open Meeting to build Planet Uhuru Revolutionary Apparel
Description
Do you want to be part of a revolutionary T-shirt store that raises resources for black community programs?
Are you interested in screen printing, fashion design, marketing and learning how to run a professional business?
Attend this open meeting to build the committee for Planet Uhuru Revolutionary Apparel! Saturday Feb 2nd, 1-2pm EST by phone.

Planet Uhuru is an institution of Black Star Industries, led by the African People's Socialist Party to build economic development & self determination for working class African people. It sells various merchandise of the Uhuru Movement such as apparel with anti-colonial messaging, handmade journals, literature, calendars, art and communist memorabilia.
The shop is coordinated by the African People's Solidarity Committee, white people in solidarity with black power and reparations to African people. Based in Boston, MA and looking to grow both locally and nationally, come to this meeting to learn how your creative skills can contribute towards a revolutionary socialist business.

Featuring guest speakers Penny Hess, Chairwoman of the African People's Solidarity Committee; and Halley Murray, Chair of Planet Uhuru. To see the store visit planetuhuru.com


** This is a phone meeting and you can call-in from anywhere** We will email you the agenda & call-in number after you have registered.