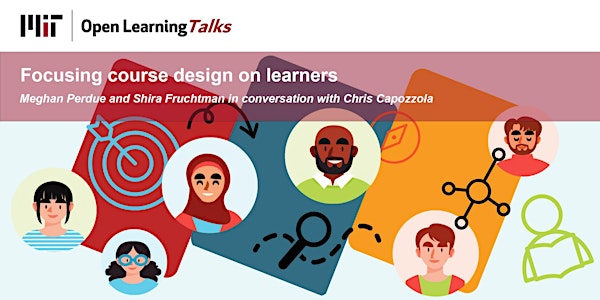 Open Learning Talks: Focusing course design on learners
Digital Learning Lab Scientist Meghan Perdue and MITx Lead Learning Designer Shira Fruchtman with Senior Associate Dean Chris Capozzolla
About this event
Open Learning Talks: Focusing course design on learners
Most massive open online courses (MOOCs) are designed with an undergraduate course framework, which assumes the learner will proceed through the course the way an undergraduate would: acquiring knowledge from the instructor's lectures, mastering concepts or skills through problem sets, and eventually completing the course. But MITx courses are freely available to anyone in the world, attracting diverse learners with different goals and motivations. What about the learners who casually explore course videos because they love to learn? Or those who participate in the course's discussion forums to find community surrounding a given topic? How can educators approach course design with different learners' perspectives and needs in mind?
In this talk, Digital Learning Lab Scientist Meghan Perdue will present her work on learner-focused course design. Using qualitative research from a group of MITx learners, she led the development of a MOOC Learner Design Guide, which presents key motivations connected to "learner archetypes," along with ten course design tips and tricks. Shira Fruchtman, Lead Learning Designer at MITx, will join to discuss Perdue's research and what the adoption of these guidelines will look like in practice. Host Christopher Capozzola, Senior Associate Dean for Open Learning, will moderate the conversation and an audience Q&A.
This event is free and open to the public. Join us on Zoom: https://mit.zoom.us/j/92153700724
Twitter: #OLTalks
Open Learning Talks bring together leaders in learning to discuss new research-based ideas, technologies, and efforts in education, at MIT and around the world. See more talks in this series.
Bios
Meghan Perdue is a Digital Learning Scientist (School of Humanities, Arts, and Social Sciences) at the Digital Learning Lab at MIT Open Learning. She works with MIT faculty to create online courses and digital learning tools, and research best practices in online pedagogy. She is also engaged in research and consulting projects that seek to understand how online education is changing the landscape of workforce training and lifelong learning, and what are the emerging best practices in online and blended learning at scale. She has a BA in international studies from the University of Oklahoma, an MA in political science from Harvard University, and is working on her EdD from Northeastern University.
Shira Fruchtman is Assistant Manager of Educational Technology and Lead Learning Designer at MITx. She consults with MIT faculty and course teams as they transition on-campus courses to an online environment, advising on research-based teaching strategies for effective learning in global asynchronous online courses and supporting course teams throughout their MOOC development and launch. She holds a BA in History of Religion from Bryn Mawr College, a BS in Biology from Towson University, and a PhD in Physiology from North Carolina State University. Shira moved into the science education field—first as a content developer for a multimedia textbook on Genomics at UNC-Chapel Hill and then as a web designer/developer creating science education and teacher professional development websites at the Harvard-Smithsonian Center for Astrophysics—before joining the team at MITx.
Christopher Capozzola is Senior Associate Dean for Open Learning, where he leads MIT's efforts in Residential Education, OpenCourseWare, and MITx. A professor of history in MIT's School of Humanities, Arts and Social Sciences (SHASS) since 2002, he's the author of two books and numerous articles exploring citizenship, war, and the military in modern American history. He is a MacVicar Faculty Fellow, MIT's highest honor for undergraduate teaching, and served as MIT's Secretary of the Faculty from 2015 to 2017. Prof. Capozzola graduated from Harvard College and completed his PhD at Columbia University.