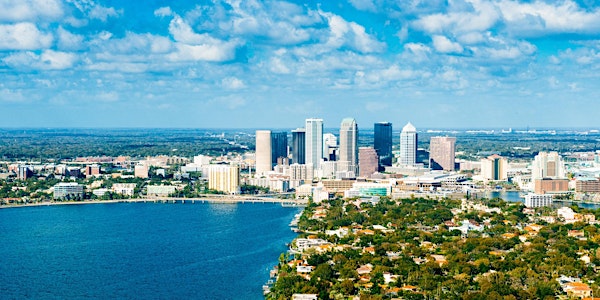 Open Leadership Symposium TAMPA 2020: Feb 4,5,6
A 3-day Learning Event. Main event is February 5 with Master Classes the day before and the day after
When and where
Location
Embassy Suites by Hilton Tampa USF Near Busch Gardens 3705 Spectrum Boulevard Tampa, FL 33612
Refund Policy
Contact the organizer to request a refund.
About this event
The Open Leadership Symposium TAMPA 2020:
Implementing INVITATION-BASED CHANGE™ and INVITING LEADERSHIP™
The Open Leadership Symposium is a THREE DAY LEARNING EVENT happening February 4-5-6 which supports the Open Movement. The main event is February 5 with a selection of great Master Classes the day before and the day after.
About INVITATION-BASED CHANGE™ and INVITING LEADERSHIP™
Invitation-Based Change is a proven approach to enterprise-level change that uses an inviting style of leadership, with intent to engage as many people as possible in the change process. Inviting Leadership is an Open pattern that acknowledges that lasting change is best invited, and cannot really be imposed. Open patterns of leadership and organizing are always invitational in nature, and designed to engage as many employees as possible in the change process.
This Symposium offers 3 full days of learning-by-doing. You can elect to participate for 1, 2 or 3 days.
The primary goal of the event is learning. The Symposium represents an opportunity for you to:
Gain access to immediately actionable guidance,
Meet and deeply engage with the experts,
Take away several proven and immediately practical Open tools,
Find the others, and interact with other like-minded, pioneering, curious people, and
Join an action-oriented community of practice and the wider Open movement
BUSINESS AGILITY
Business Agility is not really possible without implementing Open patterns and practices. Open patterns and practices are INVITATIONAL in nature. What brings us together is our intent to expand the understanding and use of Open Patterns and Practices, in service to greatly improving the results of agile and digital transformation efforts worldwide.
ABOUT THE OPEN LEADERSHIP SYMPOSIUM
The purpose and mission of the Open Leadership Symposium is to educate, enable, and support decision-makers who are responsible for enterprise-wide transformation programs. Our emphasis is on how to increase levels of employee engagement through internal motivation instead of imposition. True employee engagement is absolutely essential to the success of your change program.
Come to the OPEN LEADERSHIP SYMPOSIUM Tampa Feb 4-5-6.
Share, learn, connect and go back to your workplace, equipped with Open patterns and practices: those patterns and practices ENGAGE PEOPLE and embody Invitation-Based Change™ and Inviting Leadership™.
SOME NOTES ABOUT BUYING YOUR TICKET:
You have the option of purchasing a 1, 2, or 3-day pass. You have 5 classes to choose from on Feb 4, and four (4) more to choose from on Feb 6.
AFTER YOU CHOOSE THE 1, 2, or 3 DAY PASS, THE TICKETING SYSTEM WILL LEAD YOU THROUGH THE PROCESS OF SELECTING YOUR CLASSES.
If you are purchasing a 2-day or 3-day pass, it is essential that you pick one and only one class for any one date.
That makes perfect sense, doesn't it? You cannot be in two places at same time.
Please be ready to check off the classes you desire, and watch the dates, making sure they are distinct. Choose carefully. The ticketing system will guide you.
Lastly, please note that your ticket confirmation will list a start date of 2/4 and an end date of 2/6.
GROUND RULES FOR ALL TICKET HOLDERS AND ATTENDEES
The following Ground Rules apply to every person who purchases a ticket and/or is otherwise present at the event described above. The text and any pictures listed above describe a meeting that is open to the public to attend; this meeting is referred to hereafter as "the Event".
CONTENTS
1. REFUND POLICY
2. GENERAL GROUND RULES
REFUND POLICY
The following Refund Policy applies to any and all tickets sold:
To cancel your ticket and request a refund, use the [Contact the Organizer] button on the Eventbrite event page, or follow the steps listed under this link:
https://www.eventbrite.com/support/articles/en_US/How_To/can-i-get-a-refund?lg=en_US
All cancel-and-refund requests that are received shall be responded to within 5 days or less.
The following schedule of payment applies to all cancellations and refund requests for paid tickets:
60 days before the Event: a 60% refund, paid within 14 days
50 days before the Event: a 50% refund, paid within 14 days
40 days before the Event: a 40% refund, paid within 14 days
30 days before the Event: a 30% refund, paid within 14 days
29 or fewer days before the event: a10% refund, paid within 14 days
If the Event is cancelled for any reason, all ticket holders shall receive a 100% refund, less any non-refundable ticketing fees charged by the ticketing platform.
GENERAL GROUND RULES AND CONDITIONS FOR REGISTRATION AND ATTENDANCE:
The text and any pictures listed above describe a meeting open to the public (hereafter "the Event".) All persons authorized by the Event promoter to be present for any part of the Event who then gain admittance are agreeing to be subject to all of the following Ground Rules as a condition of said admittance:
Tickets are transferable; if you cannot make it to the event you can send a friend in your place. No audio or video recording permitted. Recording of video and/or audio is grounds for revoking your authorization to attend. You may take pictures. You are required to show up ready to have loads of FUN and engage in lots of LEARNING with lots of other very curious, fun-loving people. By purchasing a ticket and/or attending the Event, you are explicitly authorizing us to capture pictures, video, and audio recordings of your image and voice and to use these recordings in our promotions. If the recording of your image or voice fall under the authority of the GDPR law in the European Union or any other then-applicable statute, regulation, or law (regardless of jurisdiction) then by being present at the Event you are waiving those rights and also authorizing us to collect and personal data including but not limited to: name, address, email, phone number and the like, as we may require, to process, manage and maintain your Membership in our continuing education and certification programs.
By purchasing a ticket and/or being present at the Event, you are agreeing explicitly to indemnify and hold harmless the following parties from any and all claims, including but not limited to any loss, damage, or legal liability related in any way to attendance at the Event: a) the venue provider, b) the Event promoters, c) anyone and everyone else even remotely associated with the execution of the Event in any way, whatsoever, and without limitation. The Event promoter reserves the right to refuse and/or revoke admittance to the Event to anyone at any time, subject only to refunding within 30 days any dollar price paid for said admittance.
***end***