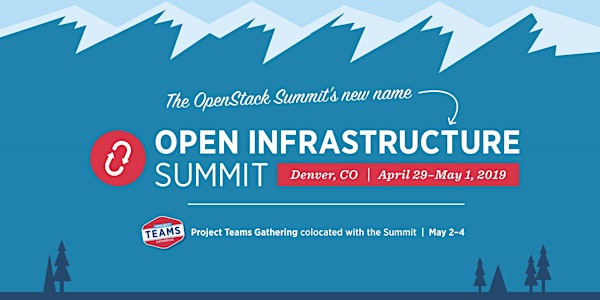 Open Infrastructure Summit & Project Teams Gathering
When and where
Location
Colorado Convention Center 700 14th Street Denver, CO 80202
Description
The Open Infrastructure Summit will be held in Denver, April 29 - May 1, 2019 & the Project Teams Gathering (PTG) will be held May 2 - 4, 2019), at Colorado Convention Center.
The Summit is focused on open infrastructure integration, and has evolved over the years to cover more than 30 different open source projects, including Airship, Ansible, Docker, Kata Containers, Kubernetes, OpenShift, OpenStack, StarlingX, Zuul and many more.
The Open Infrastructure Summit is structured around relevant use cases, trainings and complementary open source projects. Collaborate with people from more than 30 open source communities and meet the users, developers and vendors who are building and operating open infrastructure.
SUMMIT & PTG SCHEDULE
The Summit will run for 3 days, Monday - Wednesday, April 29 - May 1:
Comprised of presentations, panels, workshops, and educational opportunities
Tracks include CI/CD, Container Infrastructure, Edge Computing, Hands-On Workshops, HPC/GPU/AI, Open Source Community, Private & Hybrid Cloud, Public Cloud, Security and Telecom & NFV
Keynote presentations from notable operators, developers and industry leaders
The PTG will run for 3 days, Thursday - Saturday, May 2 - 4:
The Project Teams Gathering (PTG) is an event organized by the OpenStack Foundation (OSF). It provides meeting facilities allowing the various technical teams contributing to OSF projects (be it code, documentation, operator or user feedback) to meet in-person, exchange and get work done in a productive setting. It lets those various groups discuss their priorities for the upcoming months, assign work items, iterate quickly on solutions for complex problems, and make fast progress on critical issues. The co-location of those various meetings, combined with the dynamic scheduling of the event, make it easy to get specific people in the same room to discuss a specific topic, or participate in multiple team meetings. Evenings allow for team social interactions and relationship building.
REFUNDS & TRANSFERS
If you'd like us to cancel or transfer your ticket, please email summitreg@openstack.org before April 19, 2019, stating your name and Eventbrite order number. We can provide you with a full refund if you email us before this date. Refunds and Transfers will be granted until April 19, 2019, 11:59pm Pacific Time. After this time, no refunds or transfers can be made. No exceptions.
CODE OF CONDUCT
The OpenStack Foundation is dedicated to providing an inclusive and safe Summit experience for everyone, regardless of gender, sexual orientation, disability, physical appearance, body size, race, nationality or religion. We do not tolerate harassment of Summit participants in any form. By registering for this event, we expect you to have read and agree to the Open Infrastructure Summit Code of Conduct.