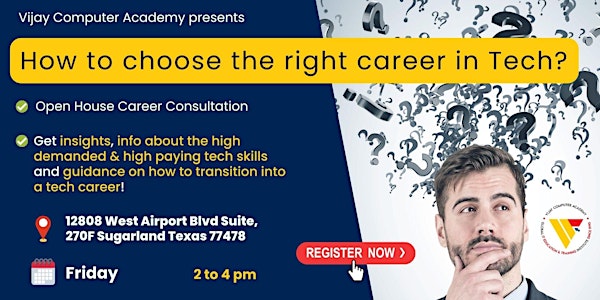 Multiple dates
OPEN HOUSE @ VCA Houston : How to choose the right career in IT?
Join VCA for an in-person consultation where we'll share insights, the demanded skills and guidance on how to transition into a tech career!
By VIJAY COMPUTER ACADEMY (VCA)
Date and time
May 12 · 2pm - June 30 · 4pm CDT
Location
12808 W Airport Blvd suite 270f 12808 West Airport Boulevard #suite 270f Sugar Land, TX 77478
About this event
This is an in-person event at Vijay Computer Academy's Sugarland / Houston office.
We welcome you to our open house to learn more about high paying IT JOBS and right tech career for you.
Meet the TEAM VCA and get answers to all your questions about various career pathways, skills, courses and workforce scholarships.
Technology is one of the definitive components of businesses today. Careers in technology are among the fastest growing out there.
🚀 Want a career that lasts a lifetime? Stop by Vijay Computer Academy campus to learn how you could be on your way to a new career in tech.
🔔 Or are you a career changer?
Career changes are hard, especially when you're entering a fast-moving field like tech. Doing it alone is even harder! And that's why Vijay Computer Academy is here to help. Join us in this open house event where we'll share tips, insights, and guidance on how to successfully transition into a tech career.
👩🏻‍💻👨🏻‍💻Thinking about learning to code, but don't know where to start?
Or just wanting to get a taste of what it's actually like to be in a Data Analytics, Software Testing or Cybersecurity bootcamp without having to risk your hard earned money to pay for one, especially when you're not even sure it's something you'll like?
Or are you considering a Transition into Tech? Or are you unemployed/dislocated worker and want to re-enter the workforce?
Looking for financial assistance?
🚫 No college degrees needed!
🚫 You don't need any prior IT skills, experience or background in TECH to have a future in IT! 👍🏻
We will be waiting for you at our office address at 12808 West Airport Blvd Suite 270F Sugarland Texas 77478. (second floor)
For any further details , reach out to us :
Email : info@vijaycomputeracademy.com
About the organizer
 VIJAY COMPUTER ACADEMY (VCA) is a global IT institute dedicated to providing world-class IT education and training to individuals (from ages 9 to 90), small and medium scale businesses, corporations, nonprofits, government agencies, financial institutions and higher education institutes.
At VCA, we believe that education is powerful, and we are willing to offer it to anyone who wants it. So we work with zero bureaucracy. No degrees needed, no background, or no IT experience is required; just a willingness to learn and get a place in the high paying job market in short time. All is open to any ages, any genders, in your own time and pacing.
Our mission is to tackle global sustainable development goals 4, 5, and 8 – quality education, gender equality, and decent work and economic growth. For nearly 3 decades, we have been on a social mission to bridge skills and gender divide through our quality, but affordable, IT programs.
Our 31 years old IT academy offers career and workforce development, customized IT training to businesses to reskill and upskill their employees and corporate and community empowerment through IT certification and certificate courses. 
Contact us at +1-832-469-1314 or email at info@vijaycomputeracademy.com to learn about our IT programs and services offered online with live instructors.