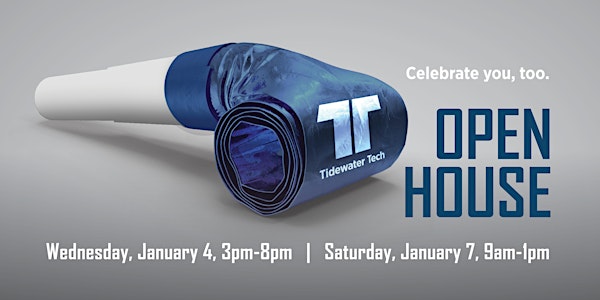 Open House | Tidewater Tech
Tidewater Tech cordially invites you to our Open House on Wednesday, January 4th from 3pm to 8pm & Saturday January 7th, from 9am to 1pm!
When and where
Location
Tidewater Tech 4535 East Princess Anne Road Norfolk, VA 23502
About this event
Interested in learning about hands-on training in HVAC, automotive repair, carpentry, or welding? Come out to Tidewater Tech's Open House.
This event will be held on Wednesday January 4th, from 3:00pm to 8:00 pm, and Saturday, January 7th, from 9:00 am to 1:00 pm.
🚨REGISTER NOW🚨
For more information, please contact Tidewater Tech Trades at 757-858-8324.
4535 E Princess Anne Rd, Norfolk, VA 23502
All CDC Covid-19 Guidelines will be followed. Masks and social distancing are required if not fully vaccinated.
For more information, please visit TidewaterTechTrades.edu
Tidewater Tech is Certified to Operate by SCHEV.
Accredited by the Commission of the Council on Occupational Education (COE).