Description
Community Works invites you to the Open House Reception for harlem is...DOWNTOWN - it's largest exhibition to date! - at the magnificent Federal Hall National Memorial on Wall Street.*

harlem is...DOWNTOWN traces the journey of Americans of African descent from the arrival of the first slave ships in Lower Manhattan in the 1600s to present-day Harlem and honors 75 icons and institutions in music, theater, dance and activism that have helped define Harlem throughout the world. As part of National Park Service's Centennial celebrations this year, the exhibition is being hosted by Federal Hall National Memorial - the historic site where our nation's first President took oath! Reception guests are invited to view the exhibit on multiple floors and enjoy refreshments and live jazz with the Khalil Kwame Bell Trio, and performances by young artists from Impact Repertory Theatre who continue Harlem's powerful legacy!

The exhibition includes original works by Bryan Collier, from his best-selling book about Harlem: Uptown; historically-themed quilts by Michael Cummings, documentary photography by Ruth Morgan, the art of Donovan Nelson and Hubert Williams, and creative contributions of NYC schoolchildren and young artists from Betty Blayton Taylor's Art Carnival. harlem is...DOWNTOWN has been curated by Omo Misha, in collaboration with Barbara Horowitz and the Community Works curatorial team, and is being presented in partnership with Federal Hall National Memorial and Harlem Arts Alliance.

*Use rear entrance for handicap and street level entry to Federal Hall, located at 15 Pine Street.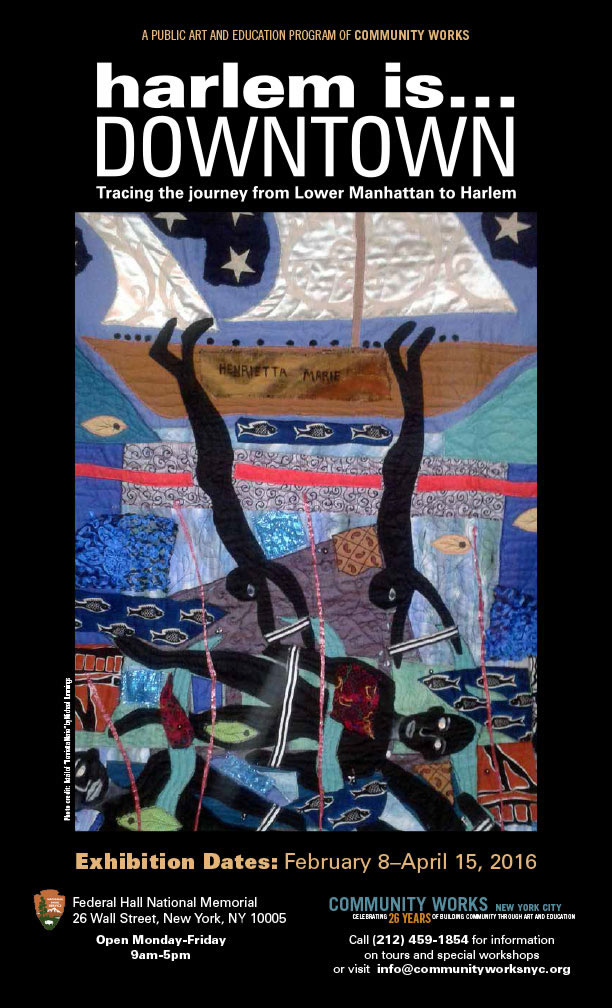 About Federal Hall National Memorial
For 17 momentous months, from 1789 to 1790, the location of Federal Hall National Memorial was the seat of the
United States
federal government under the new Constitution. Moving into the former
New York
City Hall
, Congress passed many of the founding laws of the nation and approved the Bill of Rights for ratification by the states. The 1883 statue of George Washington commemorates where our first president took the oath of office on April 30, 1789. The original building, torn down in 1812, was also the site of the trail and acquittal of printer John Peter Zenger in 1735 and the location where the Continental Congress passed the Northwest Ordinance of 1787, defined the process of creating new states. The current building, constructed in 1842 as the U.S. Customs House, is one of the architectural marvels of
New York City
.


About Community Works NYC
Community Works is an award-winning nonprofit arts organization dedicated to building bridges between diverse cultures and neighborhoods, enriching the arts curricula in public schools and brining the arts to underserved populations. Founded by Barbara Horowitz, Community Works began as a small, grassroots organization in 1990. It is now active in every borough ofNew York City and has provided dynamic learning and cultural experiences to more than three million people. Community Works' historical and artistic touring exhibitions celebrate neighborhood heroes, culture and history, highlight issues of social justice and feature the work of emerging and mid-career artists.