Sales Have Ended
Registrations are closed
Thank you for your interest in attending PLACE — A Civic Engagement Open House. Please check our website for events, news and updates related to PLACE. www.arlingtonplace.us
Sales Have Ended
Registrations are closed
Thank you for your interest in attending PLACE — A Civic Engagement Open House. Please check our website for events, news and updates related to PLACE. www.arlingtonplace.us
Description
Join Us at Artisphere

County Board Chair Mary Hynes, the County Board, the County Manager and community leaders want you to represent your organization at the kick-off for PLACE, (Participation, Leadership and Civic Engagement). Join Arlington's communitywide effort to broaden, deepen and improve the way we engage with one another to make key decisions that shape our County's future.
Learn about PLACE and its goals of ensuring that civic engagement produces real results that make Arlington an even better place to live, work and play.
Learn about "Open Door Mondays" – face-to-face chats with a County Board member.
Engage with leaders of other organizations.
Help build a "community map" that details the rich connections among community groups and how those groups connect to County government.
Offer ideas and insights for how civic engagement can be made more inclusive, efficient and rewarding.
Get in on the ground floor of a community effort to revitalize the "Arlington Way."
Get a private tour of the fabulous Frida Kahlo exhibit on display at Artisphere.
What You Need to Know

Questions? Need help registering? Call 703-228-3249 for assistance.


Tickets
Space is limited, so please register in advance of the events.
Register for only one session.
You don't need to bring the ticket with you.


Accomodations for Language and/or Disabilities
If you need an accomodation, call 703-228-3249 no later than March 1 to make your request.


Public Transportation
DC Circulator Bus
The Dupont-Georgetown-Rosslyn line drops off a few blocks away at the corner of N. 19th and N. Moore.
Capital Bikeshare
Located at the corner of Wilson Boulevard and N. Fort Myer, just one block away.
Metro
Take the Blue or Orange line to Rosslyn Metro. Rosslyn Metro is two blocks from Artisphere. Exit on Moore Street, turn right to Wilson Boulevard, left one block to Artisphere at 1101 Wilson.


Parking
Parking is FREE and available at Artisphere. The parking garage entrance is on N. Kent Street.

From Wilson Boulvard, proceed North on N. Kent Street until you see the garage entrance. It's across the street from the Spectrum theater garage located at 1611 N. Kent Street.

Validation is required and can be secured at our front desk at any time during your visit. Please take the elevator to the Main Lobby or "ML" and turn towards the U.S. Post Office. Artisphere's entrance will be directly in front of you.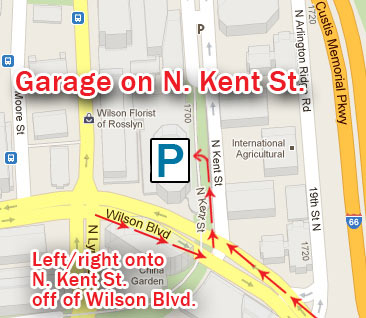 Accessiblity
The venue is handicap accessible only from the parking garage.
Artisphere strives to make its facilities accessible to all our patrons. For additional information or if you have questions, need assistance, or an accommodation not mentioned below, please call our main number at 703-875-1100 (voice), 703-228-1855 (TTY), or acarpenter@arlingtonva.us.
Accessible Entrance and Parking
All accessible entrances to Artisphere's main building at 1101 Wilson Boulevard are from the parking garage (enter on N. Kent Street). There is handicapped parking on every level of the parking garage. If you are not parking a car, enter through the garage ground floor accessible entrance, and follow the directions below.
Enter the building and take the elevator to ML (main lobby). Once in the main lobby, enter the marked handicapped door to the right of the cafe in the lobby, Le Petit Cafe. Take the lift that is to the right as you enter; it will take you up a short distance to the lobby of the Post Office.
After exiting the lift, enter the frosted double doors across the lobby from the lift, which will take you into the lobby of Artisphere.
Accessible Seating
Artisphere has accessible seating for all programs.
Accessible Restrooms
All of Artisphere's restrooms — located on each floor — are accessible.
Organizer of Open House at Artisphere (3/15 & 3/17)