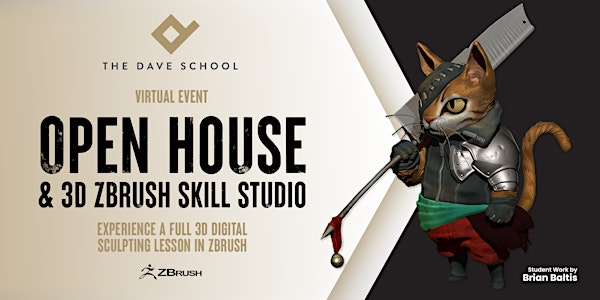 Open House & 3D ZBrush Skill Studio
Experience a FULL 3D Digital Sculpting lesson in ZBrush!
About this event
About this event
Are you considering a career in the arts? The DAVE School can help! Join us and experience this FREE webinar designed for individuals interested in starting a career in industries such as the Film, Television, Military Simulation, Advertising, Virtual Production, and Gaming – Come and learn more!
Active senior or High School graduates and above are welcome, no experience necessary!
Spend two hours with DAVE and learn how we can help you take the first step into your career and develop the skills you need to bring your creative concepts to life.
In this webinar, you will:
Experience a FULL 3D Digital Sculpting lesson in the classroom in the program ZBrush.
Witness real work from our Visual Effects, Game Production, and Virtual Production students and get an in-depth look at what is taught in our programs.
Learn about scholarships, how to effectively conduct a scholarship search,and how to build a scholarship profile that stands out with Director of Admissions Nick Talota.
Registration is free and required to attend.