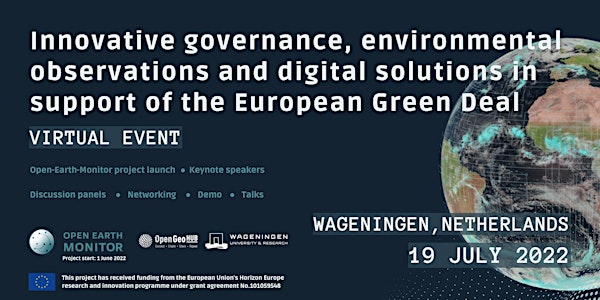 Open-Earth-Monitor Project Launch / Virtual
Innovative governance, environmental observations and digital solutions in support of the European Green Deal - virtual event
About this event
Open-Earth-Monitor is a Horizon Europe project gathering a consortium of 23 organizations across Europe and beyond, starting on June 1st. The mission of the Open-Earth-Monitor project consortium is to significantly accelerate the uptake of environmental information to guide current and future users in research, decision-making and citizens toward the most sustainable solutions.
The consortium invites you to follow the launch event throught a high-quality live-stream service from anywhere in the world & get to know the future activities, outputs and outstanding researchers part of the Open-Earth-Monitor project.
Deadline for registration: 1 June 2022
Programme
(CEST - Amsterdam)
Block 1 (9:00 –10:30)
Open-Earth-Monitor 2022–2026 "Big Earth Observation Data and upcoming ESA and NASA missions"
Block 2 (11:00 –12:30)
"From big EO data to decisions" and demo sessions (Eurodatacube, Sentinel-Hub, openEO, eumap, OpenLandMap by Tom Hengl (OpenGeoHub), Gilberto Camara (INPE-Brazile), Alexander Jacob (EURAC), Markus Reichstein (Max-Planck-Institute for Biogeochemistry)
Block 3 (13: 30 –15:00)
"How to produce and release FAIR environmental data? A crash course" by Leandro Parente (OpenGeoHub), Edzer Pebesma (ifGI, University of Muenster)
Block 4 (15:30 –17:30)
"Global and EU-scale environmental data infrastructures and monitoring initiatives in the context of the European Green Deal" (15:30-17:00)
"How can EO and AI help deliver green new deal/ what could be the most cost-effective path — the win-win-win?" - discussion forum (17:00-17:30)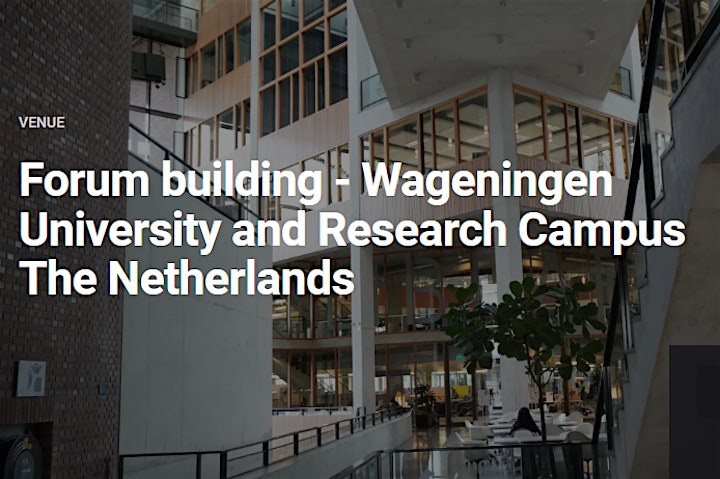 What to expect
From Big EO data (Data Cubes) to decisions: Dive deep into expert talks and discussion panels on (Big) Earth Observation Data and connected topics.
How to produce and release FAIR environmental data? A crash course on how to access, import and use environmental data to produce value-added outputs.
Big Earth Observation Data and upcoming EO missions: Learn how you can contribute to the project and meet the partners through social activities and interactive sessions.
About the project
Our goal is to realize an interoperable, open and transparent cyberinfrastructure for Big Earth Data by combining Earth Observation information and field monitoring networks -and by simplifying the use of data whilst maximizing full transparency and public/private participation to build resilient user communities at European and global levels.
Building a FAIR-compliant Earth-data cyberinfrastructure based on cloud-based implementation of open source software will serve robust and generic data science tools to a diversity of European and global programmes and actions (e.g. European Green Deal actions, Copernicus Land Monitoring Programme, Copernicus Climate Change Service, GEOSS, Destination Earth and similar) for the ultimate purpose of increasing the health and quality of life of European citizens now and into the future.
Project Partners
Research institutes, private businesses and public organizations: the Open-Earth-Monitor consortium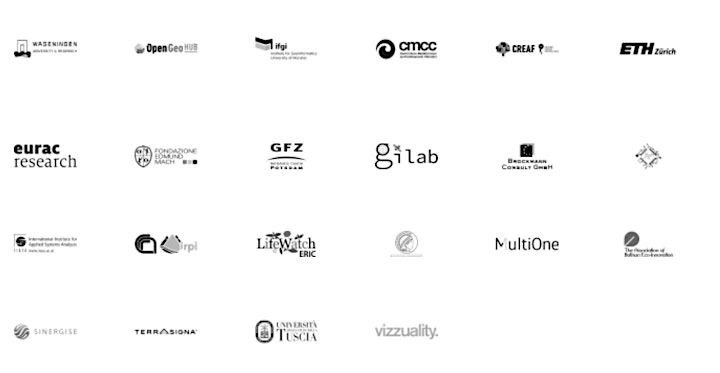 General information
Livestreaming
All the sessions on July 19th will be live-streamed using Zoom and accessible to participants registered on Eventbrite (virtual event) on the official Eventbrite page.
Registrations are free of cost. This event is sponsored by the Project Consortium.
Tickets
It is possible to reserve a ticket for the whole conference, which gives access to all sessions.
You can also reserve a ticket for one specific block, as indicated on the name and description of the ticket.
More info
Official Open-Earth-Monitor website