About this Event
Open Day on 17th October. This year we are showcasing what IT Sligo has to offer academically from our 3 faculties. We will also be running fun and interactive activities to help students to explore their options. For all Teachers and Guidance Counsellors we offer a Free Lunch within your choice of faculty Please indicate your preferred choice below.
Open Day 2019 Programme includes:
• Free Faculty Lunch for all teachers (Your choice of 3 Faculties, booking in advance required)
• Inspiring introduction to courses by lecturers with a focus on career outcomes and real life stories of how to us that qualification in life and work.
• Interesting and interactive workshops and demonstrations to apply learning to real life in our workshops, laboratories and studio space
.• Tours of IT Sligo's campus including teaching space and all the sporting facilities – soccer, G.A.A, rugby, athletics, basketball, indoor and outdoor Gym and Wellness areas and much more.• Advice on SUSI, HEAR and DARE schemes as well as grants and fees.
• Meet the IT Sligo Student Union and get advice that is relevant to students
.• A take-home goody bag for everyone.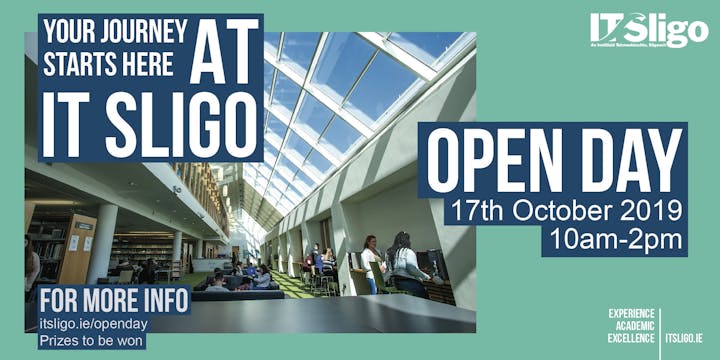 At Open day 2019 - we cater for students teachers and guidance counsellors to make sure everybody enjoys the experience equally.
I.T Sligo Open Day 2019 Let us help you 'Discover your options'