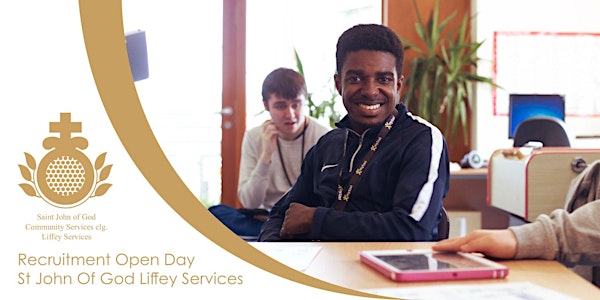 Open Day SJOG Liffey Services - Dublin Day Services
Location
SJOG Liffey Services
Cookstown Way
Springfield, Tallaght
Ireland
Attention Healthcare workers Recruitment Open Day for St John Of God Liffey Services
About this event
We are looking for a range of health and social care staff who are caring, dynamic, demonstrate integrity and strive to provide an excellent service. Come and join our team at St John of God Liffey Services!
We are hosting a Recruitment Open Day that allows you to come and meet some of the team in SJOG Liffey Services on the 1st July at our head office in Tallaght. We are looking for Instructors and Staff Nurses for Permanent, Specified purpose and relief roles, both full time and part-time.
At Saint John of God Liffey Services, we provide a range of day, educational, residential and respite services for over 850 adults and children with intellectual disabilities. We work across North Kildare and South West Dublin. Our aims are to support people safely and compassionately, and to support and empower people with intellectual disabilities to be active participants in their communities.
We understand financial wellbeing and we offer HSE consolidated pay scales and a pension scheme.
Your health and wellbeing is important to us and we offer generous annual leave, a bike to work and travel schemes, paid maternity/paternity leave, career breaks and a free employee assistance service which is available 24 hours per day.
Your success is important to us as it benefits our service users and the organisation, so we provide extensive induction, ongoing training opportunities and the support of experienced managers.
A range of full/part time and relief hours are on offer in a range of settings.
These roles may require a full clean drivers license, so please bring a copy with you.
Interviews will be held on the day so please upload your CV on registration.