Open Day gratuito riabilitazione del Pavimento Pelvico

Wednesday, July 24, 2019 from 8:30 AM to 1:30 PM (CEST)
Event Details
Un Pavimento Pelvico sano e tonico: l'Open Day
gratuito al Centro Fisioterapico Multispecialistico "Reabilia"

Un Pavimento Pelvico sano e tonico: l'Open Day gratuito al Centro Fisioterapico Multispecialistico "Reabilia"
Mercoledi 24 luglio il Centro Fisioterapico Multispecialistico "Reabilia", in Piazza della Vittoria 14/8, a Genova, apre le sue porte, organizzando un incontro gratuito per illustrare a coloro che vorranno intervenire l'importanza di mantenere un Pavimento Pelvico sano e tonico. 
 ✓Il Pavimento Pelvico è una struttura muscolare che sostiene gli organi pelvici, che permettono la continenza urinaria e fecale, nonché la funzione sessuale. Diversi disturbi possono coinvolgere il Pavimento Pelvico: stipsi, incontinenza fecale o urinaria, ritenzione urinaria, urgenza minzionale e aumentata frequenza, vescica neurologica, dolore pelvico cronico, prolassi, disturbi sessuali. 
 ✓La conoscenza approfondita del proprio disturbo, delle problematiche ad esso connesse e, soprattutto, delle possibili terapie ad oggi disponibili, aumentano l'autostima e la sicurezza personale del paziente: questo è sicuramente il punto di partenza per la risoluzione del disagio.
Insieme agli specialisti del Centro Fisioterapico Multispecialistico "Reabilia", la Dottoressa LopesDe Carvalho, nota fisiatra dall'approccio innovativo, e considerata tra gli esponenti di maggior rilievo nella riabilitazione muscolo-scheletrica, neurologica in generale e del pavimento pelvico, molto attiva nel campo dell'innovazione e della ricerca e membro di alcuni importanti gruppi di lavoro internazionali, sarà disponibile per una valutazione gratuita del Vostro problema, e per rispondere a tutte le Vostre domande. 
La giornata di Mercoledì 24 luglio sarà quindi un'occasione da non perdere per ricevere tutte le informazioni sul Vostro problema, e soprattutto un suggerimento di terapia su misura per Voi.
⇨Non perdetevi l'Open Daygratuito dedicato alla riabilitazione del Pavimento Pelvico!!! L'appuntamento è Mercoledì 24 luglio, dalle ore 8.30 alle 13.30, presso il Centro Fisioterapico Multispecialistico "Reabilia",in Piazza della Vittoria 14/8, a Genova.
Per poter organizzare al meglio la giornata ed i consulti dedicati alle Vostre problematiche, è richiesta la prenotazione, obbligatoria.
⇨ Per maggiori informazioni contattate il  Centro Fisioterapico Multispecialistico "Reabilia"allo ✆ 010 584 158.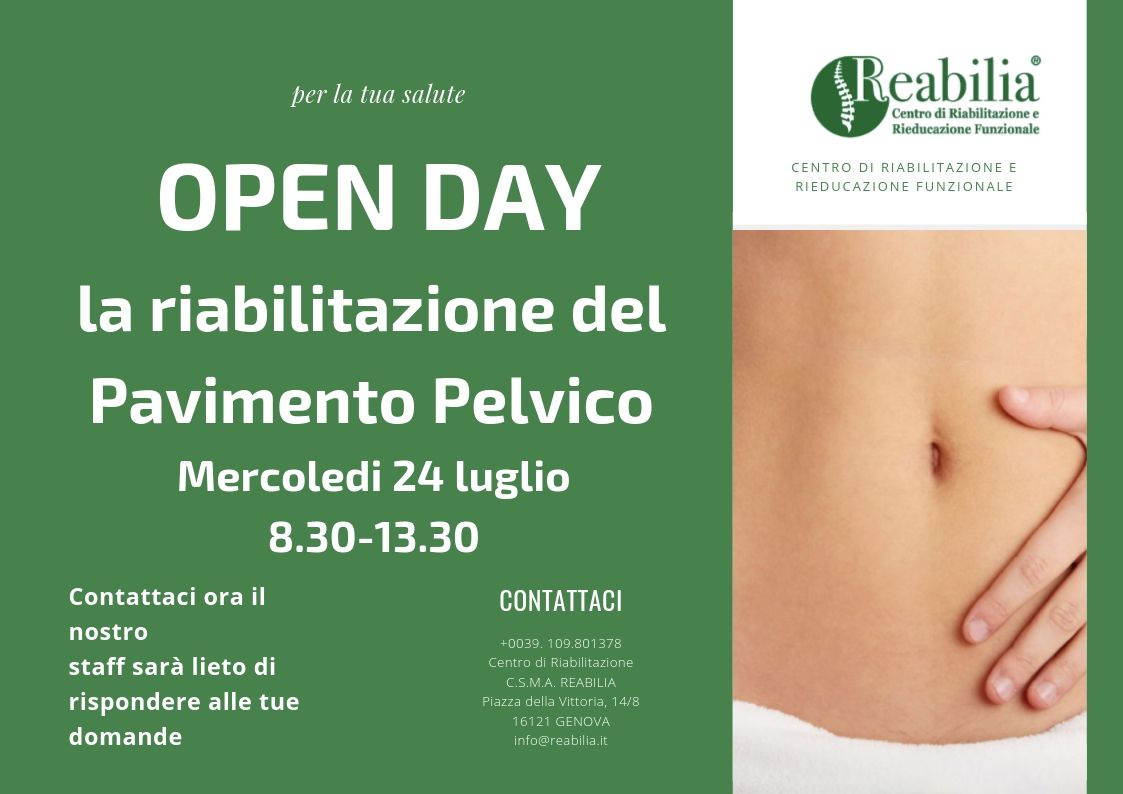 Save This Event
When & Where

CSMA Reabilia Centro Medico
Piazza della Vittoria 14/8
16121 Genova
Italy


Wednesday, July 24, 2019 from 8:30 AM to 1:30 PM (CEST)
Add to my calendar
Organizer
Il Centro Fisioterapico Reabilia a Genova opera in ambito sanitario fornendo servizi di alto livello grazie a terapie all'avanguardia e ad uno staff di professionisti dell'area riabilitativa specializzati che mettono il benessere del paziente al primo posto
Il lavoro sinergico tra Medici Specialisti e Professionisti dell'area riabilitativa ha come obiettivi principali: prevenzione, cura e recupero funzionale della persona; non ponendo attenzione al singolo segmento corporeo, ma al paziente nella sua globalità.
Presso il nostro centro è possibile trovare soluzioni a divesi problemi fisici e patologie grazie a terapie di eccellenza e macchinari di ultima generazione che garantiscono ottime prestazioni.