Open Air: Artist Conversation with Chelle Barbour
Vision & Spirit curator, Dexter Wimberly, speaks with Chelle Barbour, an artist from the exhibition, about her artistic process.
About this Event
In this month's Open Air, curator for the Gantt Center Dexter Wimberly speaks with Chelle Barbour, an artist whose work is featured in our current exhibit, Vision & Spirit: African American Art | Works From The Bank Of America Collection.
Image Credit: Chelle Barbour (American, b. 1964), Morphed Beauty, 2018, Mixed media on paper (with paper from the personal studio of Jacob Lawrence), Bank of America Collection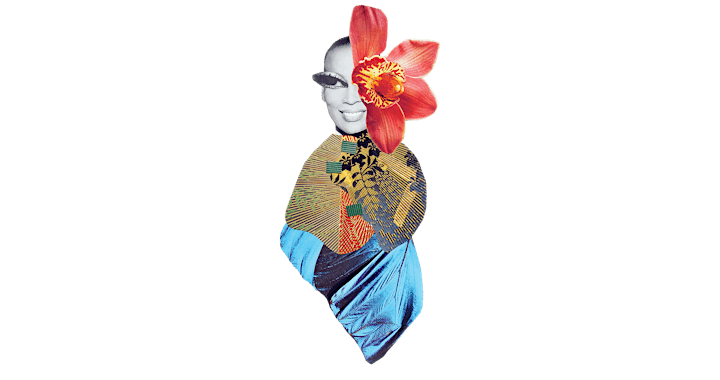 ABOUT OPEN AIR
Open Air is a monthly series of virtual studio visits and intimate conversations with Black contemporary artists across the United States. Join us as we get a behind-the-scenes look at exciting new art as it's being created while connecting particular works to some of the most pressing issues of our times. Historically, African-American artists have been compelled to make their own way within the art world, challenging traditional ideas of cultural representation and creating their own systems of merit, criticality, and reward outside of the mainstream.
ABOUT THE ARTIST
Chelle Barbour is a multimedia artist, public speaker, and independent curator. While her initial foray into the arts began in theatre, Chelle's work has expanded into a fully engaged art practice of curating, writing, photography, digital video, collage, and painting, Chelle's artwork has been presented in solo and group art exhibitions. Her collage and photographic works are in the permanent collections of the California African American Museum, the Photographic Archive at the J Paul Getty Museum, Bank of America, The Seavest Collection, and other select private art collections. As an arts institution collaborator, Chelle recently participated in an international panel discussion in association with The Wende Museum exhibition, The Medea Insurrection: Radical Women Artists Behind the Iron Curtain, she was a symposium moderator for We Wanted A Revolution: Black Radical Women 1960-1985" at CAAM, and a discussant on the lively panel, "How Will Feminist Culture Engage the Future?" in affiliation with the College Art Association conference.
Learn more about Barbour's current project, #WendeTransformations, in the video below.
ABOUT THE CURATOR
Dexter Wimberly is an independent curator who has organized exhibitions and programming in galleries and institutions around the world including The Third Line in Dubai, The Museum of the African Diaspora in San Francisco, KOKI ARTS in Tokyo, The Harvey B. Gantt Center in Charlotte, and the Museum of Arts and Design in New York City. Wimberly's exhibitions have been reviewed and featured in publications including The New York Times and Artforum, and have received support from The Andy Warhol Foundation for the Visual Arts. He is the co-founder of the financial literacy platforms Art World Conference and Art World Learning. Wimberly is also a Senior Critic at New York Academy of Art, and founder and director of the Hayama Artist Residency in Japan.