Description
Saturday, October 26th.

Opel presents our Annual Hallowen Supa Costume Bash
Night of the Living Bass

** TICKET UPDATE : **On line pre-sales stop at 8pm. Tickets will be available at the door all night, see you there on the front end or the back end!

Stanton Warriors
(www.stantonwarriors.com / Punks, UK).

3 areas of sound including Mighty's new EAW sound system in the main room, expanded patio with an Art Car hosting silent disco outside and a decked out Halloween environment. More deets to follow. Come party with us Halloween weekend.

+

Syd Gris
(Opel / Opulent Temple)
Matt Kramer
(DISTRIKT)

Melyss
(Opel / Nu Funk / Homebreakin')

Kimba
(Opel / Delta Nine)

DJ Hil
(Yerba Buena Disco)



Side Chamber:
Influence
(Strategik)

J:Miah
(Want It! / Strategik)
Drew Drop
(Opulent Temple)
Brian Peek
(Opulent Temple)

Silent Disco:

Vitamindevo
(Laser Native)
Layne Loomis
(DISTRIKT)
Darren Grayson
(DISTRIKT)
Bells & Whistiles
(Four Sweater / As You Like it)

Much More Tba



-Visuals by FulMelt

-Full Decked Out Halloween Environments

-Spooked out Art Installation from Kittymak

-Expanded Patio & Food Truck

-Performance from Devotees & Hot Ghouls


9pm-4am

Mighty

119 Utah St @ 15th, 21+

SF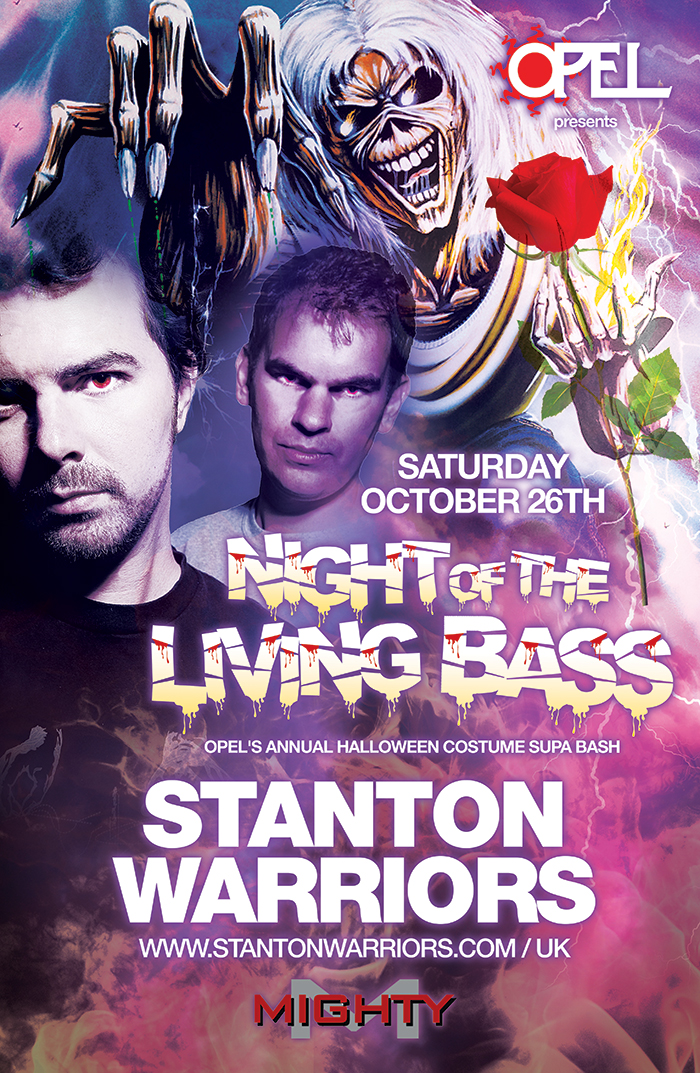 SW's Bio

Since bursting onto the global scene with their multi-award winning compilation "The Stanton Session" back in 2001, the inimitable sound of the Stanton Warriors has consistently pushed the boundaries of musical class. A strict reluctance to conform to any one style or scene – combined with an effortless ability to blue the lines between the genres it encompasses – has provided the Warriors with a sound that is all their own: an indefinable yet instantly recognizable x-factor that has ensure their productions and live performances have remained head and shoulders above the best efforts of the competition.

For over a decade, their irresistible beats & bass combo has been the soundtrack to the world's biggest and best parties, from the likes of Glastonbury to Global Gathering, Summadayze to Snowbombing, and Exit to Electric Daisy Carnival, along with countless sell-out tours of North America, the Far East, Australia and beyond. Whether it's brining their unique sound to an ever increasing worldwide fanbase, or putting out critically-acclaimed remixed and original productions through their own record label Punks, the trademark quality and innovation that has pushed them to the pinnacle of their profession is as much a part of the Stanton sound today as it ever has been.

AWARDS/ACCOLADES:
- Best Compilation 'Stanton Sessions Vol. 1'
(Muzik Magazine Dance Awards 2001)
- Best Compilation 'Stanton Sessions Vol. 1'
(Dancestar World Dance Music Awards 2001)
- Featured in Mixmag's Top 25 Compilaton CD's of All Time: 'Stanton Sessions Vol 1'
- Featured in DJ Magazine's 50 Best Remixers of All Time
- Best Compilation Album 'FabricLive 30: Stanton Warriors'
- Best DJs
(Breakspoll 2007 & 2008)
- DJ Magazine Number One Breaks DJs
- Breakspoll Best Compilation Album 'Stanton Sessions Vol. 3'
(Breakspoll 2009)
- BBC Radio 1 Zane Lowe's Hottest Record In The World 'Turn Me Up Some'
(Dec. 2010)
- Best Album 'The Warriors'
(Breakspoll 2012)
- DJ Magazine Top 100 DJ's – one of only 2 non-house entries in chart

Organizer of Opel Halloween : Night of the Living Bass w the Stanton Warriors
Opel specializes in conscious parties with kick ass line ups. Our intention is to use the dance community as a positive vehicle of change in the community and the world.
We believe the Bay Area dance community is in a unique position to be a catalyst for moving the greater society in a more conscious direction, in fact we feel that if we don't do this, the future looks very bleak for all of us.
We're dance enthusiasts tired of a world without substance, we're funky freaks trying to encourage some change, one party at a time.