Event Information
Refund policy
Contact the organizer to request a refund.
Eventbrite's fee is nonrefundable.
Opal's Husband is a full-length comedy by John Patrick. Part of this author's ever popular "Opal" series.
About this event
Opal's Husband revolves around the Opal Kronkie, the zany and lovable heroine who lives in a tumbled-down home at the edge of the city dump, and is a collector of trash, treasures and people. Bent as usual on a good deed, Opal tries to round up a husband for her friend Rosie and answers a lonely hearts ad placed by "Mister Handsome" – who, when he shows up, proves to be a ninety-five-year-old escapee from a nursing home. As expected, complications ensue, and when Rosie rejects her would-be suitor, Opal reluctantly agrees to marry him in order to keep the old man from the clutches of his scheming daughter. It seems that he really is quite rich, and his desire is to spend his last days (and his fortune) with a nubile maiden on a South Pacific island while his daughter wants him to expire quickly, and quietly, in the old folk's home. Thereafter the plots and counter-plots multiply hilariously as the daughter and her husband try to discredit the marriage (and convince Opal that she is cuckoo), while the old man devises his own plan to catch them in their dirty work. Happily he succeeds, and off he goes to his fond reward, leaving Opal with both an annulment and another delightful lesson in life to pass on to her myriad admirers.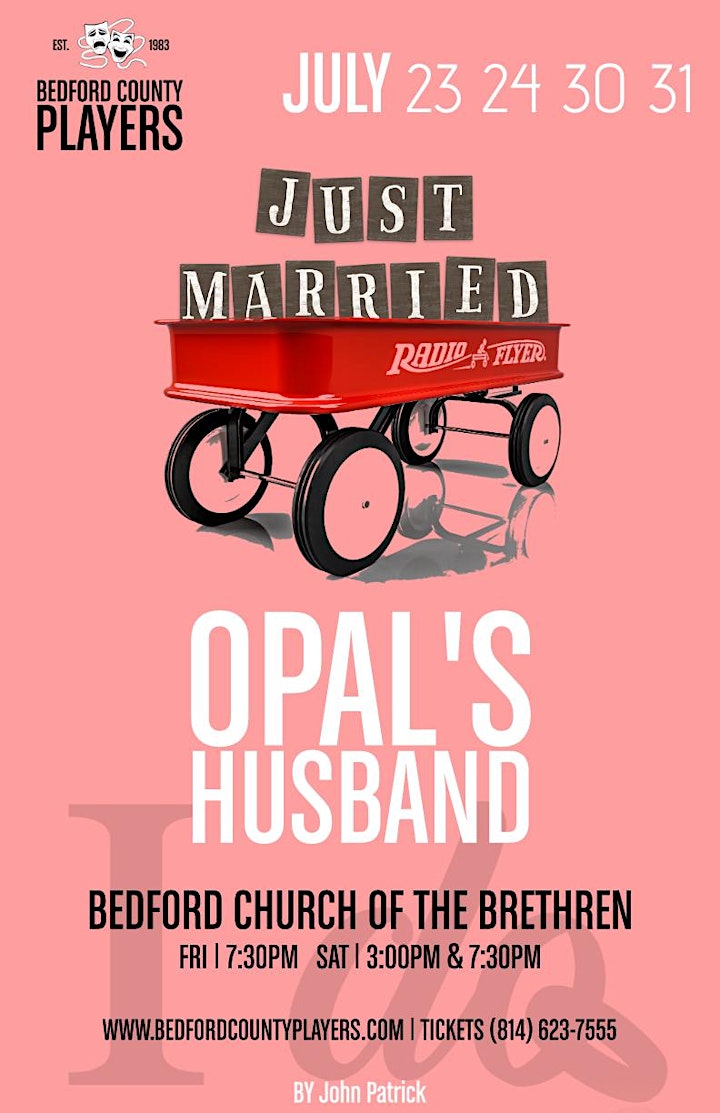 Location
Refund policy
Contact the organizer to request a refund.
Eventbrite's fee is nonrefundable.
Organizer of Opal's Husband
Many people across the world enjoy the arts in one form or another. That includes our little historical town of Bedford, Pennsylvania. The arts are alive and well within our community and the Bedford County Players have been making sure of that for many years.
With annual productions just for youngsters, the Players are able to help kids grow to love live theater. From the first time they hit the stage, they are infected with the "love of the stage" that only comes with live theater. They continue to grow with each performance, then before you know it, they are the ones molding minds! It is important to the Players to continue to educate the young and to continue bringing joy and laughter to audiences for many years to come.