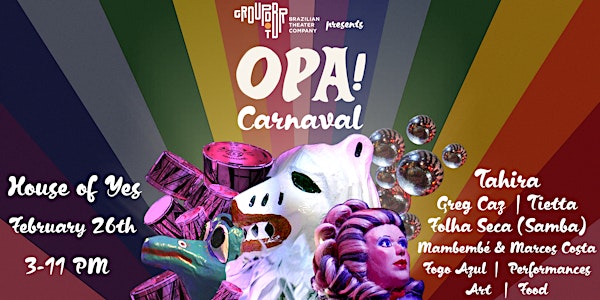 Opa! Carnaval
House of Yes and Group Dot BR presents Opa! Carnaval
When and where
Location
House of Yes 2 Wyckoff Avenue Brooklyn, NY 11237
About this event
Get ready to shake your hips and let the Brazilian carnaval spirit take over! Group Dot BR, New York's only Brazilian theater company, is proud to present 'Opa! Carnaval' at the House of Yes on February 26th from 3 PM to 11 PM.
Join us for a full day of non-stop fun with the best carnaval tunes by Djs Greg Caz, Tahira (Brazil) and Tietta, Samba de Roda with Folha Seca, the all-female drums group Fogo Azul and Mambembé with special guest Ilê Ayê singer Marcos Costa. Plus, there will be live performances by Group Dot BR, Brazilian food, and an art exhibition by Angelica Walker Projects.
Kids are welcome from 3-6 PM, so bring the whole family and let the good times roll. Get there early to enjoy our caipirinha special and make the most of the party!
Come experience an unforgettable carnaval celebration!
: : : LOOKS : : :
We'll also have a free makeup and costume station where you can transform into your carnaval self. Costumes are not mandatory, but why miss out on the fun?
::: MUSIC :::
::: PERFORMANCES :::
+TBA
::: BRAZILIAN FOOD :::
::: Art exhibition presented by Angelica Walker Projects :::
All Ages 3pm -6pm | No Re-Entry
TABLES: YES, we have tables!- contact Reservations@houseofyes.org to book yours 🍾
Subscribe to our email list for first access to events & tickets: bit.ly/YESEMAILS
* * * SAFER SPACES POLICY * * *
House of Yes is a space for everyone to feel welcome. We have a zero tolerance policy for harassment, unwanted touch, and discrimination. Always ASK before touching anyone at our events. If someone is making you uncomfortable, speak to a security guard or ask for a manager. We will believe you, and we will help. All restrooms in our venue are gender neutral. The entrance to the venue is ADA accessible. Strobe lights are used during performances and parties. Find out more at houseofyes.org/SAFER