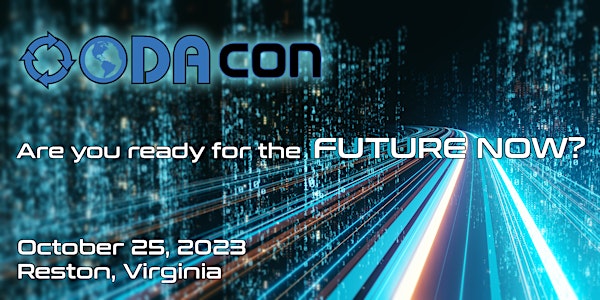 OODAcon 2023 - Future Now!
OODAcon is about understanding the future and developing the resiliency to thrive and survive in an age of exponential disruption.
Date and time
Starts on Wednesday, October 25 · 8am EDT
Location
Hyatt Reston Town Center 1800 Presidents St Reston, VA 20190
About this event
Note: OODA Network Members Contact Us For Your 50% Discount Coupon Before Registering
Our theme for this year's OODAcon is FUTURE NOW as we focus on the technologies, ideas, and risks that exist right now that leaders need to understand today.  It is time to stop treating the future like some distant possibility and address the inherent reality of the innovation that exists today and will impact your organization.  Are you ready for the FUTURE NOW?
The OODAcon conference series brings together the hackers, thinkers, strategists, disruptors, leaders, technologists, and creators with one foot in the future to discuss the most pressing issues of the day and provide insight into the ways technology is evolving. OODAcon is not just about understanding the future, but developing the resiliency to thrive and survive in an age of disruption.
OODA Network Members receive a 50% discount off ticket prices. For more on network benefits and to sign up see: Join OODA Loop
The anticipation of disruptive technologies has allure for those of us trying to develop informed strategies about the future, but what if those disruptive technologies already exist today.
OODAcon 2023 Topics Include:
The Generative AI Surprise
During our 2022 conference, we predicted that ChatGPT would take the business world by storm and included an interview with OpenAI Board Member and former Congressman Will Hurd.  Today, thousands of businesses are being disrupted or displaced by generative AI.  This session will take a closer look at this innovation and the impact it is having on business, society, and international politics.
The Space Edge - Defining New Opportunities, Economies, and Risks
After decades of stagnation, space innovation keeps pushing the boundaries of the possible with new firsts emerging on a monthly basis.  This session will dig deep into the emerging opportunities, economies, and risks associated with the rapid development of space-based technologies, resource acquisition, and shift from the public to private sector.
Building Trust Back into Blockchain
Blockchain technologies have experienced a period of Creative Destruction as fraudsters and opportunists exploited an environment with lots of misaligned economic incentives and lagging regulatory oversight.  Despite the hurdles, blockchain technologies continue to be incredibly disruptive in the market and offer new opportunities in both the public and private sectors.  This session will explore leading blockchain innovation with a specific focus on how it might enable new models for business and governance.
Cyber is the New Cyber - Managing Emergent Risks
While the field of cybersecurity is easily over 30 years old, it continues to be a nexus for significant risk in emerging technologies.  This session will explore how threat actors are adapting to new environments and adopting disruptive technologies to achieve their goals.  
Hacking Humans - The New Genetic Frontiers
There have been groundbreaking advancements in genetic engineering and new medical technologies are poised to disrupt the dialogue on health, ethics, global security, and the future of humanity.   This session will explore  disruptive technologies, such as the revolutionary CRISPR gene-editing tool, breakthroughs in synthetic biology like Xenobots, and the emergence of exponential medical treatments that demonstrate rapid adoption properties. 
Robots, Automation, and Autonomy
From Amazon warehouses to military conflict in Ukraine we have become increasingly dependent on automated and autonomous platforms. This session will explore the current state of the field with a specific focus on the impact to national and economic security.
Zero Trust Societies and Disruptive Technologies
How do we maintain societal trust as individuals migrate from platform to platform, identities get impersonated, and technologies like ChatGPT and Midjourney produce conversations and images indistinguishable from the truth through malicious prompts or hallucinations.  This session will explore the trust threats and emerging trust wars and look to identify solutions that help alleviate these risks.
OODA Global Risk Briefing
Drawn from our OODA Network of Experts, this global risk briefing will update you on the latest conventional and cyber threats and geopolitical considerations that should inform your decision making
Closing Reception
Please plan to join us for a networking reception immediately following the event.
About the organizer
OODA helps our clients identify, manage, and respond to global risks and uncertainties while exploring emerging opportunities and developing robust and adaptive strategies for the future.
OODA is comprised of a unique team of international experts lead by co-founders Matt Devost and Bob Gourley. Matt and Bob have been collaborating for two decades on advanced technology, intelligence, and security issues. Our team is capable of providing advanced intelligence and analysis, strategy and planning support, investment and due diligence, risk and threat management, training, decision support, crisis response, and security services to global corporations and governments.