Description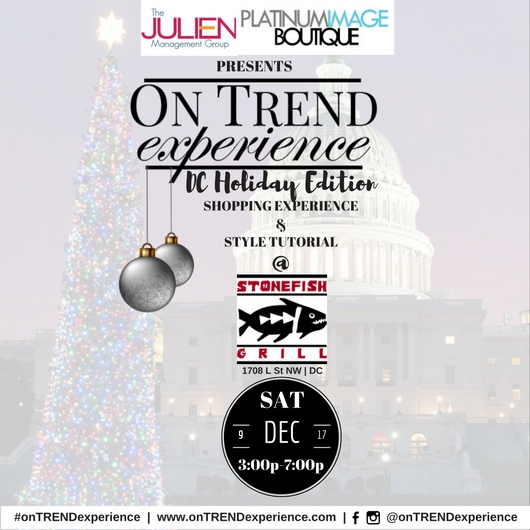 WHAT: THE JULIEN MANAGEMENT GROUP & PLATINUM IMAGE BOUTIQUE PRESENTS #onTRENDexperience | DC HOLIDAY EDITION
WHEN: SATURDAY | DECEMBER 9, 2017
TIME: 1:00pm – 3:00pm Style Tutorial | 3:00pm – 7:00pm Shopping Experience
WHERE: Stonefish Lounge DC | 1708 L St NW | Washington, DC
EVENT OVERVIEW
The Julien Management Group and Platinum Image Boutique Presents On TREND Experience | DC Holiday Edition taking place Saturday December 9, 2017 from 1:00pm – 7:00pm at the luxurious Stonefish Lounge in Washington, DC. The OTE | DC Holiday Edition is an event that will feature several of the hottest trending and emerging designers, boutiques and brands. Brands will collectively receive the opportunity to promote and showcase to their respective market of professional TRENDERS during the holiday season for an unforgettable exclusive shopping experience as we transform the all white chic Stonefish Lounge DC into a posh shopping mall occupied by mini brand pop up shops. TRENDERS will enjoy Sipping…Shopping…& Showcasing in style as they revel in all things TRENDING for the upcoming holiday season during the On TREND Shopping Experience!
The DC Holiday Edition On TREND Style Experience will be hosted by a Celebrity Stylist alongside a fab Celebrity Fashionista to be announced. The duo will serve up a dose of priceless Fashion secrets and tips for all TRENDERS as they enjoy the electric atmosphere!
EVENT DETAILS
ü #onTRENDexperience Shopping Experience
ü Fashion Presentation by Celebrity Stylist & Custom Couture Designer Kenny 'Kas' Flanagan
ü Style Tutorial
ü Female Celebrity Muse
ü #onTREND Specialty Drinks
ü Delectable Desserts
ü Celebrity | Media | VIP Invites
ü & MORE!
TICKET INFO
OTE Shopping Experience Admission | $10
OTE Shopping Experience + #onTREND Specialty Drink | $20
OTE Style Tutorial | $50 (#onTREND Specialty Drink|#onTREND Style Tips|Small Bites| Gift Bag|FREE Adm to Shopping Exp)
For more information visit our website www.onTRENDexperience.com. If you have any questions about #onTRENDexperience or becoming a partner or vendor please contact us at onTRENDexperience@gmail.com.