Description
Come and Join Us at the Annual Welsh Festival!
Click on the Tickets button to purchase all types of tickets or make a donation!
The Ontario Gymanfu Ganu Association has been having an annual festival since 1961! The festival has evolved and changed through the years but music, fun and the celebration of all things Welsh have been a constant. Now called the Ontario Welsh Festival the flow of the weekend includes the following:

Friday - Welcome Tea and in the evening the Welsh equivalent of an "Open Mike Night" called a Noson Lawen. After our stage performances we move on to the Afterglow with much singing around the piano.
Saturday is action packed with our AGM in the morning, and seminars on topics relating to Welsh culture and history in the afternoon. Then in the evening is the Banquet with The Gold Award presentation, and our concert featuring a different world class choir from Wales every year.
Sunday we come together for two Cymanfu Ganu sessions where we join our voices together with the choir under the direction of our guest conductor from Wales.
Please take a look through the website to learn more about the specifics of this year's Ontario Welsh Festival at https://ontariowelshfestival.ca/schedule-of-events/schedule-at-a-glance.
Come and see a spectacular Welsh Choir - Côr Meibion Machynlleth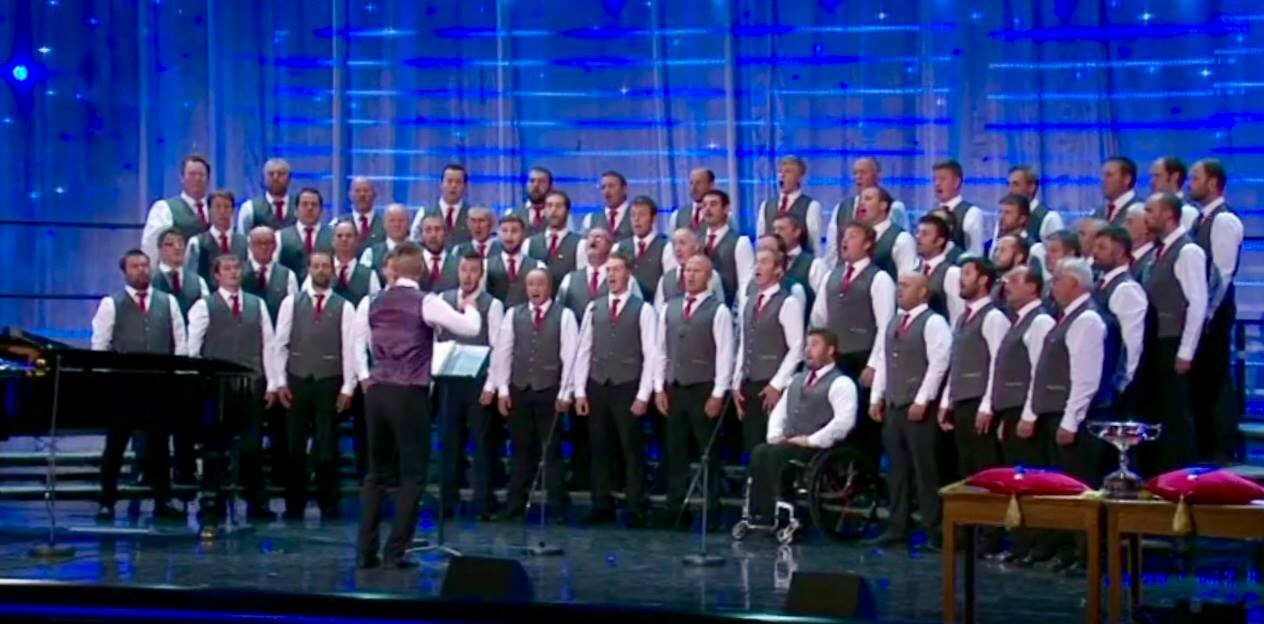 Côr Meibion Machynlleth is a choir from rural mid Wales. It is a reasonably young choir coming from rural Wales it's little wonder then that many members of the choir have strong tieds to the farming community. A large proportion of its members are farmers, and the vast majority come from a farming background
Côr Meibion Machynlleth was established in October 2014, to compete at the 2015 Montgomeryshire and the Marches National Eisteddfod in Meifod, a local Eisteddfod to the choir. The choir was fortunate enough to be awarded second prize in the Male Voice Choir section at the 2015 Eisteddfod, under the guidance of Conductor Aled Myrddin and Accompanist Menna Griffiths, and again at the 2016 National Eisteddfod at Abergavenny. This paved the way for a very special and successful year in 2017, winning the Male Voice Choir section in the Côr Cymru competition on S4C, being awarded first prize in the Male Voice Choir section at the National Eisteddfod in Anglesey, and singing the national anthems ahead of the Wales v New Zealand rugby international at the Principality Stadium.
During 2018, Côr Meibion Machynlleth recorded a CD with Sain, which was released ahead of the National Eisteddfod, and sang at the London Welsh Festival of Male Choirs at the Royal Albert Hall. The choir is looking forward to performing at the Ontario Welsh Festival in Canada in April 2019.
Mae Côr Meibion Machynlleth yn gôr o gefn gwlad canolbarth Cymru. Mae'n gôr gweddol ifanc, gyda nifer o'r aelodau yn eu 30au. Fel côr gwledig, mae ganddo gysylltiadau cryf â'r gymuned amaethyddol. Mae nifer o aelodau'r côr yn ffermwyr, a'r mwyafrif helaeth yn dod o gefndir amaethyddol.
Sefydlwyd Côr Meibion Machynlleth yn Hydref 2014, er mwyn cystadlu yn Eisteddfod Genedlaethol Maldwyn a'r Gororau ym Meifod yn 2015, Eisteddfod leol i'r côr. Bu'r côr yn ddigon ffodus i gael yr ail wobr yn adran y Corau Meibion yn Eisteddfod 2015, o dan arweiniad Aled Myrddin, gyda Menna Griffiths yn cyfeilio, ac unwaith eto yn Eisteddfod Genedlaethol 2016 yn Y Fenni. Paratodd hyn y ffordd ar gyfer blwyddyn arbennig a llwyddiannus iawn yn 2017, gan ennill adran y Corau Meibion yng nghystadleuaeth Côr Cymru ar S4C, cael y wobr gyntaf yn adran y Corau Meibion yn Eisteddfod Genedlaethol Môn, a chanu'r anthemau cenedlaethol cyn gêm rygbi ryngwladol Cymru v Seland Newydd yn y Stadiwm yng Nghaerdydd.
Yn ystod 2018, recordiodd Côr Meibion Machynlleth CD gyda Sain, a gafodd ei rhyddhau cyn yr Eisteddfod Genedlaethol, a chanu yng Ngŵyl Corau Meibion Cymry Llundain yn Neuadd Albert. Mae'r côr yn edrych ymlaen at berfformio yng Ngŵyl Gymreig Ontario yng Nghanada yn Ebrill 2019.