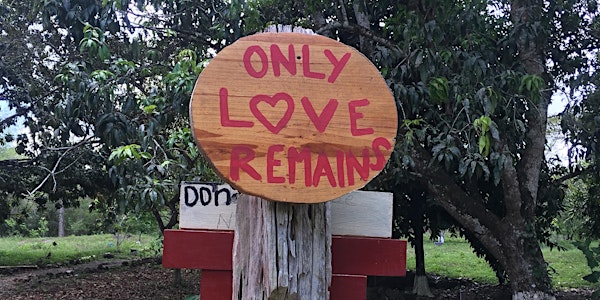 Only Love Remains Workshop @ Woolman Hill Retreat ctr, Deerfield, Mass
August 26-28. The Only Love Remains workshop addresses the demise of the natural world and the extinction of all life on Earth.
When and where
Location
Woolman Hill Retreat Center 107 Keets Road Deerfield, MA 01342
Refund Policy
Refunds up to 7 days before event
Eventbrite's fee is nonrefundable.
About this event
Amina and Arif are excited to be hosting the "Only Love Remains" workshop in Deerfield, Massachusetts.
About this event
Inspired by Joanna Macy and the Grief Recovery Institute, the Only Love Remains workshop was created by Professor Guy McPherson, Ph.D., and Pauline Schneider, MA Edu. The OLR workshop has helped hundreds of individuals work through the immediate grief of losing the natural world around them and the anticipatory grief for the likely extinction of all life on Earth.
For those who have come to grips with near-term human extinction, it is a lonely conclusion, one that interferes with many relationships. You want somebody with whom to discuss the most important topic in the history of our species. It seems most of our friends and family are in denial. The daily distractions of war, inflation, social media, and celebrity mania, leave little time to thoughtfully grieve our planet's demise.
Now what?
We have developed a workshop to address this issue in response to numerous requests. The workshop follows naturally from Guy McPherson's numerous presentations on abrupt climate change. It's the logical next step for those interested in pursuing healthy psyches and healthy relationships after concluding the worst.
This workshop distills hundreds of hours of scholastic reading, deep introspection, and facilitated practice into an eight-hour workshop. Though it is inspired by the Grief Recovery Method and Joanna Macy's workshops, It is not a grief-recovery workshop, instead, it is a synthesis of our professional expertise in light of near-term human extinction. It is an active, interactive experience focused on the topic of living fully in light of evidence pointing toward the near-term loss of habitat for humans on Earth.
Workshop attendees will meet Friday evening at 5pm (NY time), August 26th at the Woolman Hill Retreat Center in Deerfield. The workshop will be done by Sunday 2pm.
The workshop registration includes meals and overnight bunk quarters.
Pay $400 by check. More details will be provided upon registration.
Important: This workshop is not the place to debate the state of our existence or a time to present solutions for fixing it.
This is a time to be together and witness the truth of our life on earth and how to live fully and beautifully.
Come with an open heart and mind.
We ask that if you are not feeling well, please stay home and take care of yourself.
Specifics of the workshop location at the Woolman Hill Retreat:
Arrive Friday August 26th anytime after 5pm, dinner at 6pm, circle up 7:30pm 
Please arrive before 7:30pm so we can start the program all together.
Things to bring along :
Twin sheets and towels (blankets & pillows are provided ) (If you are flying in, let us know and we can bring extra)
Open heart and mind😉
Things to bring if you wish ;
-Something for the snack table (nuts, chips, chocolate, fruit, a treat of your choice). 
-A favorite box of tea to share.
Food will be a vegetarian menu lovingly prepared by  Amina . If you have dietary needs please bring what you like and need to nourish and take care of yourself (refrigerator space available, please put your name on your food) 
A few things about our time together :
Safety protocol - if you are not feeling well, stay home and take care of yourself. 
Saturday and Sunday mornings we hold silence until 8am allowing us to ease into the day quietly. 
We ask you to give yourself the gift of unplugging from personal devices and to be in the beauty of nature and the atmosphere of one another. It is an amazing and rare opportunity!!
All guests agree to the following policies for Woolman Hill use:
* Allow time to clean the facilities before leaving, using the clean-up guide provided.
* Overnight guests should bring bedding (usually twin sheets and pillowcases) and towels.
* No smoking, candles or open flames in any building.
* No pets on the campus except service dogs trained to assist with specific tasks in service of a disability
* No illegal drugs. Alcohol is fine in moderation; the renter accepts any liability for serving and use of alcohol at their event.
* Park in designated areas only.
* Outdoor fires only in designated area, with prior permission from staff.
* Day use maximum capacity is 150 for outdoor events; overnight is maximum 50 (with camping).
* Please recycle and compost; avoid using disposable plates, napkins and cutlery when possible.