Online Wilderness Skills and Storytelling w/ Tom Brown Jr. and Jon Young
Special Guest Storytelling and "Dirt Time Nature Adventures"
About this event
Join us for an interactive online event with special guests Tom Brown Jr., Founder of the Tracker School, and Jon Young, Founder of 8 Shields Institute. Listen to stories about how Tom learned from Stalking Wolf when he was a boy, as well as how Jon was mentored by Tom Brown starting at age 11.
Just announced: Tom Will be live from his personal study and sharing some of his Skull collection. He is very excited to have the kids get a peek into his collection and see some of the skulls he found with Grandfather.
Hosted by 4 Elements Earth Education's Founder Rick Berry, and accompanied by 4E Instructors, we will utilize 'breakout rooms' via the Zoom platform to facilitate small group 'circle' sharing and hands-on Earth Skills activities.
This will be a 2 hour zoom video call. 1-3 PST., 4-6 pm EST. 4E /Rick Berry will intro and short story. Guest Speaker(s) 1:30 - 2 (or more)Then we will break into "rooms" with 4E Instructors and do small group activities. With sharing circles. End with short story, wrap up.
Sliding scale pricing helps make this event accessible to everyone. Please select the contribution level your family can comfortably afford. Thank you for your support.
A message from Rick Berry:
I am very excited to have Tom and Jon come together to share how they were guided toward a path of deep Nature Connection. Each developed a foundation as children in learning the old ways, and yet each of them on their own unique path and approach to education.
As two of my mentors and co-creators of Coyote Tracks Programs/The Children of the Earth Foundation in 1999, we can see now that there are 100 times as many schools, programs, and Organizations as there were 20 years ago. So, the mentoring of one to another continues and multiplies exponentially every year.
There is a greater Vision coming into the world, as we have many "communities" around the world with "Nature Smart" Educators (with a foundation from handed down mentoring of the Old Ways Teachings) sharing with youth and each in their own unique way in service to the land and communities they live in.
In the wake of the current Pandemic we, like nature, find a way to grow and adapt. We have been given a "pause" to ask what we are doing with our lives and hope that we can create a better world for our youth and the future generations. Come join us for some inspiration about getting yourself and your kids outdoors and creating deep connections to the Earth.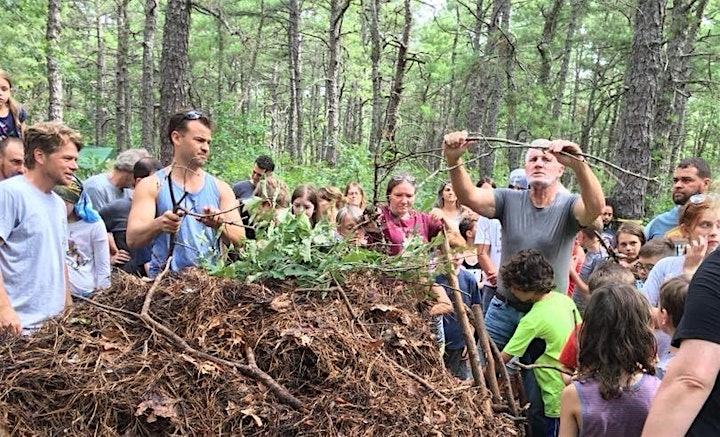 Date and time
Location
Refund policy
Organizer of Online Wilderness Skills and Storytelling w/ Tom Brown Jr. and Jon Young