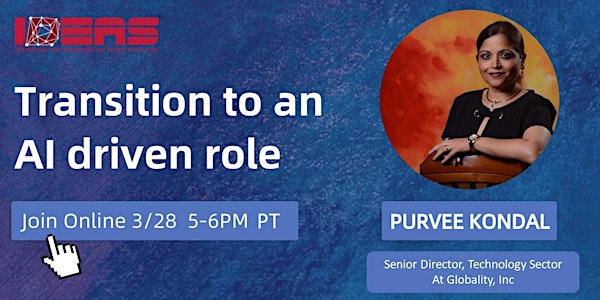 Online Webinar - Transition to an AI Driven Role
Transition to an AI driven role
About this event
This event is Online, you CANNOT enroll the event by Eventbrite.
Please Click HERE to REGISTER.
Guest Speakers: Purvee Kondal, Senior Director of Tech Sector at Globality, Inc
Have you wondered what AI will mean in the future to your role and what it will mean for you? Are you interested in AI but don't know how your role could possibly ever be AI driven when you are not an AI engineer or a Data Analyst or know Python? How do you find your AI niche in a business type role such as Finance, Procurement Operations, IT, and others?
Having held roles in the career as a Chief Procurement Officer to Head of IT Strategic Sourcing for large multi-national companies, I have been tracking and working with AI now for a while. I am now at a company that is using AI to transform Procurement and Sourcing functions and I am NOT an AI engineer. I have found what worked for me, how I motivated myself, and what my advise is to executives on how to re-skill the workforce to keep relevancy with AI and ML in the future.