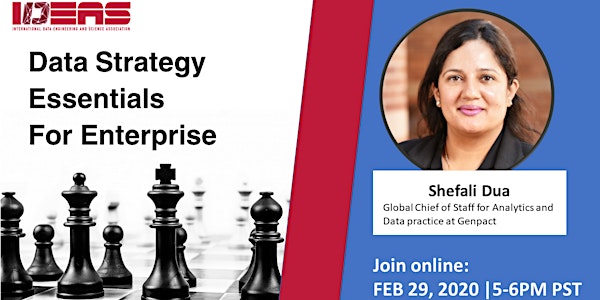 Online Webinar - Data Strategy Essentials for Enterprise
Knowledge Graphs: Data Strategy Essentials for Enterprise
About this event
This event is Online, you CANNOT enroll the event by Eventbrite.
Please Click HERE to REGISTER.
Guest Speakers: Shefali Dua, Global Chief of Staff for Analytics and Data practice at Genpact
Data is one of most important assets in today's economy alongside product, services and people for businesses. As we move to business use cases like data monetization, industrialization, privacy and more, the question arises - what should businesses plan for while building their data roadmap? What are key imperatives to lock in data strategy to business strategy? What can we learn from industry successes and failures. Please join the webinar to hear more.
Shefali Dua is the Global Chief of Staff for Analytics and Data practice at Genpact and oversee strategic initiatives in AI, ML, Data Engineering, MDM and Analytics. She come from a deep technology consulting and advisory background working for companies in North America, EMEA and Asia. She has led multiple worldwide engagements, pre-sales advisory boards, developed go-to-market plans, defined product roadmaps, provided program governance for a large portfolios and established a reliable partner alliance for companies including Genpact, HP Enterprise Services, Microsoft, Accenture and Avanade. She has a MBA from UCLA Anderson School of Management where she specialized in Global leadership, Tech Management, Finance and Entrepreneurship with modules completed in Sau Paulo Brazil, HEC, Paris France, Hong Kong and Shenzhen, China.