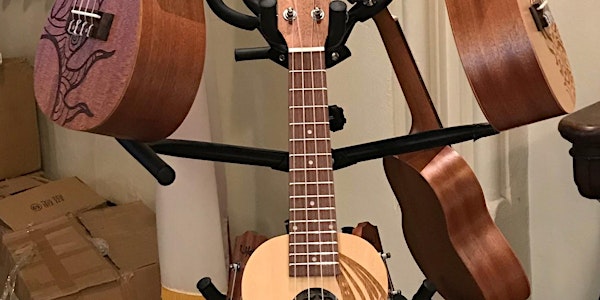 ONLINE Ukulele Workshops:PLUCK & STRUM, bootcamp, strum, low G (pluck)
Make music and community with your ukulele in one-hour workshops in Zoom! Drop-in or take the entire series strum, fingerstyle, and bootcamp
Refund Policy
Contact the organizer to request a refund.
Eventbrite's fee is nonrefundable.
About this event
BREAKING NEWS:
Thursday 7/9/2020 from 4:30 to 5:30 pm EDT. FREE taster info and practice workshop for Pluck & Strum Series. Register for the ZOOM link. New classes to start mid-July.
Click on the hyperlinked course titles to get more information about start dates and times. These dates/times will be adjusted according to capacity and demand.
Ever wanted to play the intro riff that makes a song so recognizable? To replicate a song authentically, in the way we know it from the artists that made it famous, often we need to use both plucking and strumming techniques to bring out the instrumental introduction, interludes, and outro. To accompany it, we may need to pluck AND strum. It's not enough to use the same strum pattern for the entire song.
Wednesday mornings 10 -11 am EDT 7/15, 7/22, 7/29, 8/5, 8/12. Break. 9/2, 9/9.
Wednesday evenings 5:15 - 6:15 pm EDT 7/15, 7/22, 7/29, 8/5, 8/12. Break. 9/2, 9/9.
Thursday afternoons 4:30-5:30 pm EDT 7/16, 7/23, 7/30, 8/6, 8/13. Break. 9/3, 9/10.
The tuition $135 includes a handout (PDF) with links to video recordings of the class session (e-mailed after each class), arrangements and transcriptions made for the class, custom-tailored exercises to strengthen right and left hand techniques. Early bird registration $125 (and for existing/previous students) end July 12th midnight.
Monday 6/22/2020 from 3:30 to 4:30 pm. FREE taster info and practice workshop for Bootcamp.
For the following courses:
Early bird registration $99 for 6-week series and $20 drop-in closes on June 7th. Thereafter REGULAR RATES $125 for a series and $25 drop-in. Register a minimum 2-hours before start-time of workshop to allow processing. Handouts and video recordings of the workshop(s) are sent to participants afterwards. Enter ZOOM BEFORE the session starts to get tuned up and set up. See * for minimum enrollment conditions.
Ukulele Boot Camp Series (all levels) also known as BOOST CAMP is offered from Saturday 5/30 at 9 am EDT for 6 weeks and also from Monday 6/29 @3:30 pm Level 1; @4:45 pm Level 2 for 7 weeks. Get a new exercise each time to add to the previous week's offering. The bookcamp aims to encourage daily practice (even if for 10 minutes), to build and boost your skills in the following areas, with application to one song each session.
Left-hand muting
Left-hand chord fingering - optimal and alternatives
Left-hand chord transitions
Right-hand muting
Right-hand timing and rhythm
Right and left hand coordination
Ukulele Strum Workshop (all levels) starting Wednesday 5/27 @10 am EDT and Tuesday 6/9 @5:30 pm EDT, also known as STRUM for FUN, Strum Techniques, Strum Patterns, Strumming Patterns, Different Strokes for Different Folks, this new course incorporates the best of previous strum workhops. The six-week course covers the following areas:
Basic strokes that make up a strum pattern
Muting, accents, textures, dynamics, tempo
Percussive effects
Strum patterns
Application to songs in Three Chord Thursdays at Three
Low G Ukes Unite! (all levels) starting Monday 6/1 @10 am EDT and Wednesday 6/3 at 5:30 pm EDT is a new course aimed at participants who want to make more use of their low-G tuned ukuleles (linear instead of re-entrant tuning) to acquire and improve skills in fingerpicking. This is also open to participants who do not have low G-tuned ukes, as there are parts that do not require low-G. Also known as fingerstyle ukulele, pick and pluck, fingerpicking, instrumental ukulele, ensemble playing. The initial six-week course covers the following areas:
Reading tablature (tabs)
Reading notation (notes)
Riffs in songs, including bass lines
Plucking accompaniments
Multi-part playing (duet, trio, ... ensemble)
Resources for fingerstyle ukulele
* Minimum enrollment: a course at that particular date/time will begin once minimum enrollment is met. Paid registrants can visit the other date/times of the same course until then.
ABOUT THE INSTRUCTOR:
Based in Boston, Massachusetts but currently self-isolating in the rolling hills of Kent, known as the "garden of England", Anne Ku has moved all her face-to-face group classes online through ZOOM virtual, interactive sessions. Anne's new book for complete beginners takes you from holding your ukulele to playing Iz's "Somewhere Over the Rainbow" in ten steps.
She hosts three kinds of song sessions regularly in ZOOM, open to anyone anywhere in the world. "Three Chord Thursdays at Three" illustrates the three chord songs in her book as well as explores different themes and eras. Twice a month, she hosts "Songs in the Time of Corona" to share new parodies, 20-second hand wash songs, and original songs reflecting this challenging period. Once a month, she welcomes singers from all over the world to join ukulele players in her "Global Karaoke Party" which centers around a new theme.
Her "crash course for complete beginners" ensures the right start to build a firm foundation. Besides these courses, Anne also teaches for Passim School of Music, Cambridge Center for Adult Education, and Arlington Community Education. Other workshops, events and resources are listed on her website.
FEEDBACK FROM PREVIOUS STUDENTS:
Anne Ku knows so much about music and teaching. It is clear that she loves playing songs with others.
Fun, friendly instructor, makes it easy to learn!
Anne Ku is a wonderful and fun Zoom ukulele instructor. She tailored the class to the students needs and kept the pace appropriate. She also provided resources to be used after the class to help beginners like me with materials and videos to use for practice. I highly recommend taking a class with Anne. You will not be disappointed.
Thanks for the wonderful classes and printable info which was so valuable to me for further practice. Anne has developed into a skillful online instructor who cares that her students understand and improve their practice of ukulele with determination, skills development, and joy. I think the wonderful community that developed during the Boot Camp was due to leadership, giving nature, and her own enthusiasm for the Uke.
Anne is an excellent instructor with not only a wealth of knowledge, but the wonderful skill of being able to share and teach that knowledge to others in a clear, concise, easy to understand way. I feel so lucky to have found Anne as an instructor, and look forward to continuing to learn from her expertise.