Event Information
Refund Policy
Contact the organizer to request a refund.
Eventbrite's fee is nonrefundable.
Build your skill and technique on the ukulele in 7 hours in Zoom.
About this Event
OPEN TO ANYONE ANYWHERE IN THE WORLD! Tuition includes handouts customised to each class and video recordings of the class. All times are EST (Eastern Standard Time).
STRUM a.k.a. Rhythm & Strums: strum techniques and patterns to accompany love songs; bespoke exercises to improve timing, rhythm, fingering & switching chords and sight reading. Pre-req: can read and play from chord diagrams.
7 Mondays 12:00 - 13:00 ET from 1/11/2021 to 3/8/2021
5 Tuesdays 19:15 - 20:30 ET from 1/12/2021 to 2/9/2021 (2 x 1.25 hrs + 3 x 1.5 hrs = 5 sessions)
PLUCK a.k.a. Fingerpickin' Good! Use your fingers to pick melodic riffs and plucking accompaniments for love songs and Irish songs. Pre-req: can already read tablature (tabs) and pluck.
7 Tuesdays 13:00 - 14:00 ET from 1/12/2021 to 2/23/2021
7 Wednesdays 19:15 - 20:15 ET from 1/13/2021 to 2/24/2021
Pluck & Strum Series : chord melody arrangements. Make a piece entirely instrumental ukulele. Technique exercises. Pre-requisite: can already read tabs, have taken pick & pluck or other fingerstyle equivalent course.
7 Mondays 10:30 - 11:30 ET from 1/11/2021 to 3/8/2021 (skip 1/18 and 2/15)
7 Thursdays 17:30 - 18:30 ET from 1/21/2021 to 3/11/2021 (skip 2/18)
Hum & Strum Learn to sing in tune and play in sync with your singing. Individual coaching from professional voice teacher in breakout room (taking turns) while the rest of class develop rhythm and strum proficiency and application to song in the main room.
7 Tuesdays from 11:30 to 12:30 ET from 1/26/2021 to 3/9/2021
Music Theory for Ukulele Scales, Intervals, Triads, Chords, Inversions, Analysis, Applying Circle of Fifths for the ukulele. Pre-req: able to read notes and tabs.
7 Wednesdays 15:00 - 16:00 ET from 1/27/2021 to 3/10/2021
ABOUT THE INSTRUCTOR:
Born in Brunei and raised in Taiwan and Okinawa, Anne Ku earned her music degrees in composition and teaching diploma in piano from Utrecht Conservatory in the Netherlands. After performing as a chamber musician in Europe, she moved to Hawaii and taught music at University of Hawaii Maui College. She has based her ukulele club and teaching practice on her MA in Music thesis on ukulele song sheets and participative music making. Published in 2020, her new 110-page book "UkuGlobal's Happy Helpful Guide to the Ukulele" contains exercises and curriculum for the complete beginner. She encourages all her students to join "Three Chord Thursdays," the weekly one-hour song session in Zoom that she launched since the pandemic / lockdown, open to anyone anywhere in the world.
FEEDBACK FROM PREVIOUS STUDENTS:
Anne's class is inclusive and encouraging. In addition to the technique, she offers terrific tricks for upping our style, jazzing it up, and makes all of it approachable, even for beginners.
Fun, friendly instructor, makes it easy to learn!
Online zoom uke bootcamp a great weekly hour class with Anne, excellent teacher, interactive format fun and informative.
Anne is an enthusiastic and knowledgeable musician and teacher. She loves music and strives to offer her students a meaningful and joyful learning experience. She finds ways to meet the needs of a range of abilities by offering many entry points. Anne has mastered teaching an online music class!
Anne is an excellent instructor with not only a wealth of knowledge, but the wonderful skill of being able to share and teach that knowledge to others in a clear, concise, easy to understand way. I feel so lucky to have found Anne as an instructor, and look forward to continuing to learn from her expertise.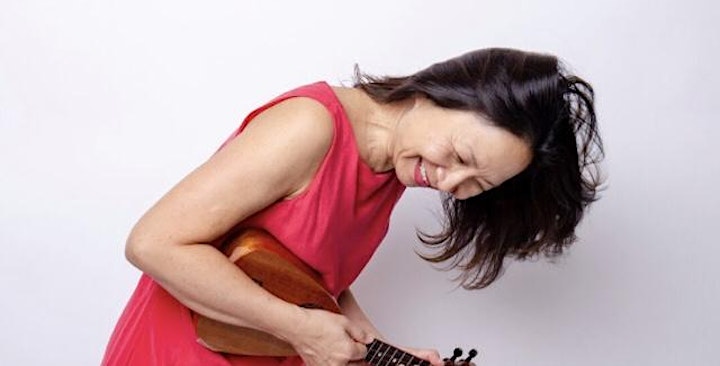 Location
Refund Policy
Contact the organizer to request a refund.
Eventbrite's fee is nonrefundable.