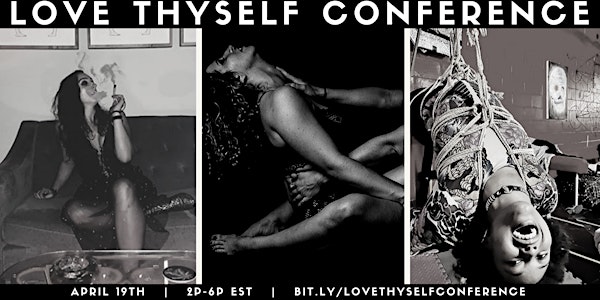 ONLINE The Love Thyself Conference - Feminine Energy
A Conferences, for Femmes, that Delves into the Intersection of Cannabis, Kink, Masturbation and Trauma Healing.
Refund Policy
Contact the organizer to request a refund.
Eventbrite's fee is nonrefundable.
About this event
There is no instruction manual for healing from our past, so how do we begin to move forward?
The Love Thyself conference brings together a collection of experts, writers, and coaches within the alternative health field while providing a space to interact with others on their healing journeys.
We will discuss the categories of Kink, Cannabis, Masturbation, and Trauma Healing and how those can relate and interact with each other.
What rituals, products, or frames of mine help us to connect with our bodies and get out of our heads?
How do you stay safe when in an altered state?
Learning and understanding your Risk Profile?
How can altered states of consciousness help us tap into our healing?
What form of healing is right for me?
This conference is specifically for Femme's, as in - those who feel they have a feminine energy - whatever that means to you. Future events for those who identify with a Masculine energy will be available at a later date.
PLUS, a variety of vendors will be offering Love Thyself Conference Exclusive Bundles that can ship right to your door!
:: FEATURED SPEAKERS ::
:: Q&A ::
What if I don't use cannabis or do kink?
That's okay! We have plenty of other topics to discuss and kink/cannabis/therapy can all be interchangeable in terms of whatever you use to heal. There isn't *one way* that works, it's about what is right for you!
If I'm not a Femme can I just come and watch?
No. We will have an event for you in the future though!
Four hours seems long! Doesn't it?
That's why we have so many breaks scheduled! It should only run about 3.5 hours but we have an hours worth of breaks for you to dance, drink, meditate, whatever!
2p-6p
2:00 - 2:15 :: Dance Party Upon Entry
2:15 :: Intro from Tiana & Lola
2:20 - 2:35 :: Risk Awareness & Risk Profiles
2:35 - 2:55 :: Cannabis & Trauma Healing w Sophie Saint Thomas
talk for 10-15 mins , our Q&A 5 , Q&A
:: Guided Reflection & BREAK ::
3:15 - 3:35 :: Kink & Trauma Healing w Lenore Black
:: Guided Reflection & BREAK ::
3:55 - 4:15 :: Rituals & Reiki w Reverend Rucifer
4:15 - 4:30 :: Creating Intimacy with Yourself w Valarie Merced
:: Guided Reflection & BREAK ::
4:45 - 5:15 :: Guided Masturbation w Lola Jean
----- for the guided masturbation all attendees are asked to either turn their videos off or only show their face on screen ------
More goodies TBA